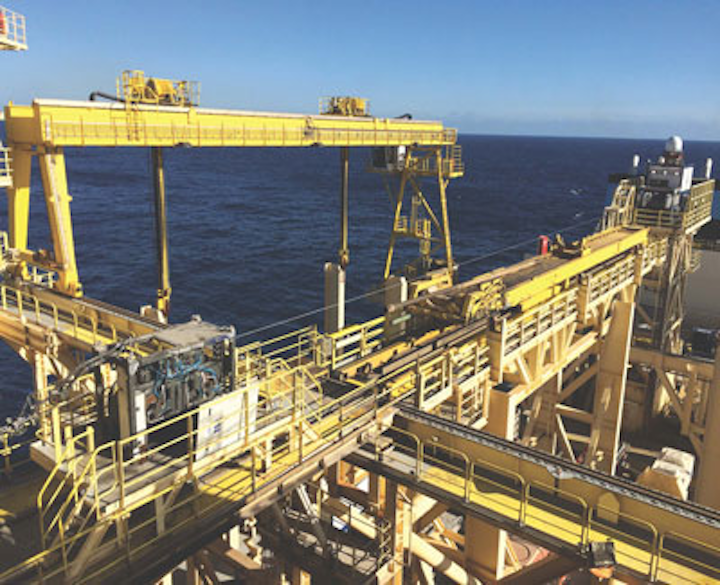 Offshore staff
HOUSTON–Schlumberger has launched the MaxPull high-pull wireline conveyance system, which can pull from 18,000 lbf to 30,000 lbf in wells 40,000 ft (12,192 m) deep or more.
Hinda Gharbi, president, Wireline, Schlumberger, said: "With the industry's highest-pull wireline conveyance system, drillers can expect drill pipe-free wireline operations in any environment with vertical well efficiency and minimum sticking risk. In addition, our customers can mitigate operational risk and save time during comprehensive data acquisition by eliminating the use of conventional drill pipe conveyance."
The new system can pull up to 30,000-lbf line tension, which the company said is 43% higher than previously possible. It says that the system with wireline tractors further improves well access in complex well trajectories while minimizing the number of logging runs.
The system has been tested in a wide variety of well environments and trajectories in the Middle East, Europe, Asia, West Africa, and North and South America.
A customer deployed the MaxPull 30000 system in a deepwater Gulf of Mexico well where job modeling indicated logging tension of 20,900 lbf. The existing highest-pull system of 21,000 lbf did not provide an overpull capability in the event of tool sticking. By using the MaxPull 30000 system, Schlumberger said the customer had the safety margin of 9,000 lbf of additional pull. A sticking incident occurred during a reservoir fluid sampling station.
A pull in excess of 29,300 lbf was applied to free the toolstring, avoiding a four-day fishing operation and the loss of valuable reservoir fluid data, and saving more than $3 million, the company said.
Schlumberger is exhibiting at booth #4541.
05/02/2016