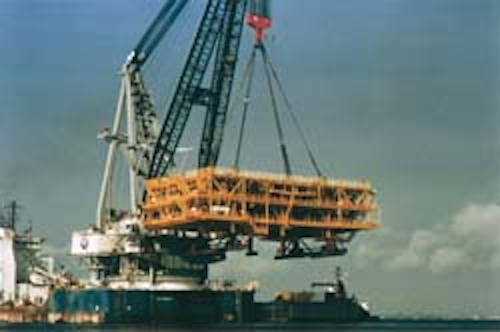 (Left) N'Kossa deck installation off West Africa performed by the DB50 in late May. (Right) The NKF 1 jacket is shown being fabricated at McDermott-ETPM's Jebel Ali yard in the United Arab Emirates in late 1995.
Installation of the jackets and decks for the N'Kossa drilling platforms has been completed ahead of time and below the budgeted cost. Main contractor for this exercise was McDermott-ETPM, which used novel setdown techniques and advanced simulation software to ensure a smooth installation.
N'Kossa is West Africa's biggest deepwater development to date, in waters varying from 150-300 meters. The centerpiece is the 100,000 tonne concrete barge hosting most key facilities, including process, power and accommodation. Less publicized are the two associated unmanned drilling platforms chosen to tap the 7x3 km, 400 meter thick oil reservoir.
Each will weigh 11,500 tonnes, with combined slots for around 40 wells including 24 producers, 12 water and five gas injectors. Bouygues Offshore built the jacket for one of the platforms, NKF2, and is also responsible for installing the pipelines and submarine connections (entrusted to Stolt Comex Seaway).
McDermott-ETPM built the deck for this platform, and also the deck and jacket for NKF1, at its Jebel Ali yard in UAE. Engineering and design work were performed at the Paris offices of ETPM. Combined value of this workscope, including the installations, is close to Fr1 billion.
N'Kossa fabrication was a 12-month job for Jebel Ali, completed in December last year. The finished drilling decks weighed 1,500 - 1,700t: McDermott-ETPM would later add on 4-500 tonnes of duplex steel piping. NKF1's jacket was 170 meters tall.
Load-out of this jacket was performed early this January in a 20-minute operation at Jebel Ali. It was skidded onto the Intermac 627 barge, then transported to Port Gentil, Gabon where it arrived seven weeks later. After a few days' routine checks there, the barge continued with its cargo to the N'Kossa site in Congo where it was launched, then lowered onto the pre-drilling template built and installed by Bouygues Offshore.
Once in the water - a three-minute operation - the jacket was self-uprighted. Flooding of the valves in the bottom of the legs to ballast the jacket into position took 20 minutes.
Eight piles fabricated at Jebel Ali, each 97 meters long and 200 tonnes in weight, were driven through the jacket sleeve using a Hydralok swaging device. McDermott-ETPM's chief concern had been the possible need to use a latchlock to level the jacket, but this proved to be unnecessary.
This was the first time a jacket this size had been installed off West Africa. It was also the first time a Hydra-lok and hammers had been used for a field off West Africa: previously, the prevailing sea conditions, including a long permanent swell, had discouraged such thoughts. Use of the uprighting method for the piles was also a first off Africa.
In April the Intermac 627 was also used for the NKF2 jacket operation (which was picked up from Bouygues Offshore at Pointe Noire, Congo). Launching was performed by the McDermott-ETPM installation barge Polaris.
Later that month, the two decks left Jebel Ali on the transportation vessel Seateal. On arrival 21 days later at Port Gentil, they were transferred, one onto a cargo barge and the second onto the derrick barge DB50 for placement onto the jackets.
To ensure trouble-free maneuvers of both jackets at load-out, launching and setdown, ETPM simulated the anticipated process in Paris using hydrodynamic software from Ultramarine called Moses. This program offered a spectral analysis capability, specified by the client, which ETPM's previous software did not have.
Other projects in West Africa recently awarded to McDermott-ETPM include fabrication and installation of the caisson for Mobil Nigeria's Inanga Field. The joint venture is also bidding fabrication, transportation and installation of the two platforms for Chevron Angola's Mbalamba development.
Copyright 1995 Offshore. All Rights Reserved.