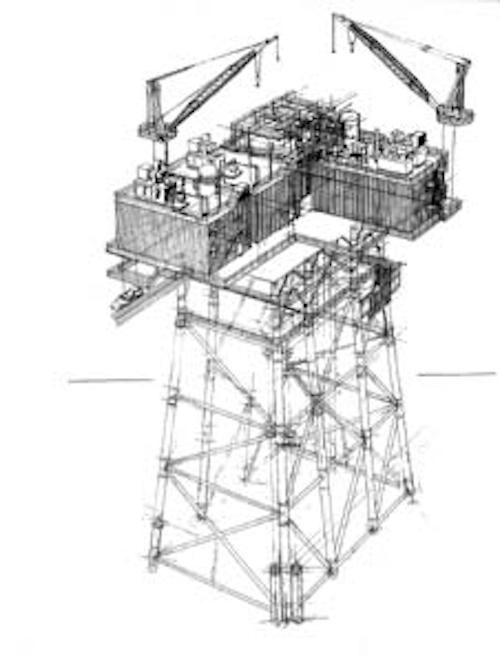 Services range from platform repair through water injection design
Oil production in Vietnam has stepped up a gear lately, with BHP's Dai Hung Field newly onstream and Vietsovpetro's Rong expected to follow. However, Bach Ho remains the dominant producer, currently peaking at around 135,000 b/d.
That figure will tail off over the next decade. But maintaining production at any level would have been difficult without a major platform modernisation programme. Here British companies have been heavily involved.
Bach Ho was brought onstream in 1986. Around 15 platforms have been installed in 40-50 metres of water: the last two platforms are thought to have been placed in 1990. Oil is exported via two 150,000 dwt tankers converted to FSOs.
The field's facilities were thought to have been in a bad state of disrepair. In 1993 surveyors from the UK's Lloyd's Register were brought in to examine six of its platforms and five mobile units. Last year LR also surveyed and certified four existing jackets in the same field.
British companies Trafalgar House Offshore International and John Brown have just completed inspection and repair of eight of the platforms, raising them to a standard acceptable to Lloyds. THOI now says its is bidding for I&R on four other structures, possibly the selfsame jackets.
Water injection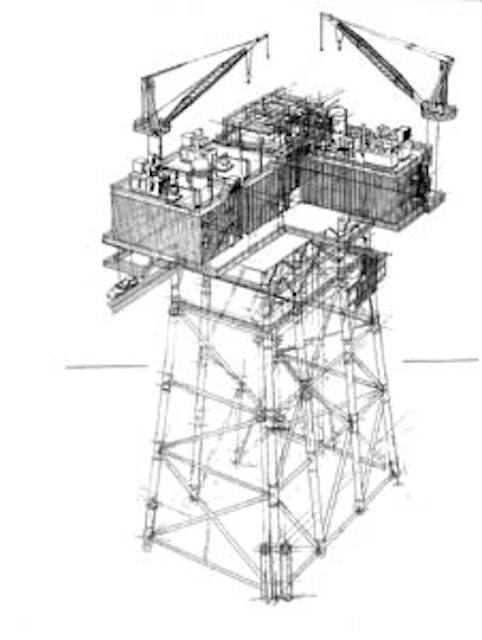 Artist's impression of Vietsovpetro's White Tiger water injection platform, which will feature equipment from Serck Baker and Hayward Tyler.
When Bach Ho was discovered, Vietsovpetro thought the reservoirs' primary drive mechanisms would be sufficient to allow the field to be produced without pressure maintenance. Now it transpires that pressure maintenance is required.
To ensure that remaining reserves of 200-300 MM bbl are recovered, an integrated water injection platform is being provided in a two-phase project managed by Singapore fabricator Sembawang and Serck Baker, based in Gloucester, England.
The first phase involved basic and detailed design along with procurement of piles, jacket and module support frame. Fabrication of these items took place in Vung Tau, supervised by Sembawang, with Serck Baker designing the process equipment. In addition, the two companies are supplying an independent 10,000 cm/d capacity, water treatment and injection module for scheduled delivery this June.
Under the project's second phase they will supply two further water treatment and injection modules, each with a capacity of 10,000 cm/d, and also a power generation module, all for delivery in 1996. The
two companies are also involved in an existing Vietsovpetro project, supplying two 5,000 cm/d water treatment and injection modules.
Another British company, Hayward Tyler Fluid Dynamics, was contracted to supply sea water lift pumps for these projects. They are vertical electro-submersible units as commonly delivered to North Sea installations.
Gas gathering
Until last year, associated gas from Bach Ho had simply been flared away at a rate of 2.5 million cm/d. Vietnam's authorities finally put an end to the wastage, commissioning Hyundai to lay a 125 km pipeline extending from the field to a power station onshore at Ba Ria and to a gas bottling facility near Dinh Co.
Gas flow of 150 mcf/d should be possible through the 16in. line without compression. Laying has been completed with a new pipeline riser, bridge linked to an existing central production platform. PetroVietnam appointed John Brown Engineers & Constructors' London operation to act as Owner's representative in managing this project.
Staff at Lloyd's Register's new Vung Tau office were involved in the certification. LR field staff carried out surveys during procurement, fabrication, installation, hook-up and commissioning of the facility. They also surveyed pipeline coatings, wrappings and associated shore termination equipment during manufacture in Malaysia.
Recently, British Gas was involved in a four-month feasibility study for the second phase of Vietnam's proposed Gas Utilisation Project, which will involve installation of a new riser/compression platform on Bach Ho. Trafalagar House is thought to have been one of the bidders for this $150 million piece of hardware.
Winning this work might finally persuade the company to open a fabrication yard in Vietnam, a move it has been pondering for some time. One possibility, which the company is known to have discussed as a joint venture with PetroVietnam, might be a yard currently leased by Vietsovpetro in Vung Tau which is equipped to handle very large topsides and jackets. BHP's Dai Hung development also provided new work for British companies. The award of wellhead profiles for an initial six subsea wells in 1993 provided an entry into the Vietnamese market for Aberdeen-based wireline services company Petroline.
Copyright 1995 Offshore. All Rights Reserved.