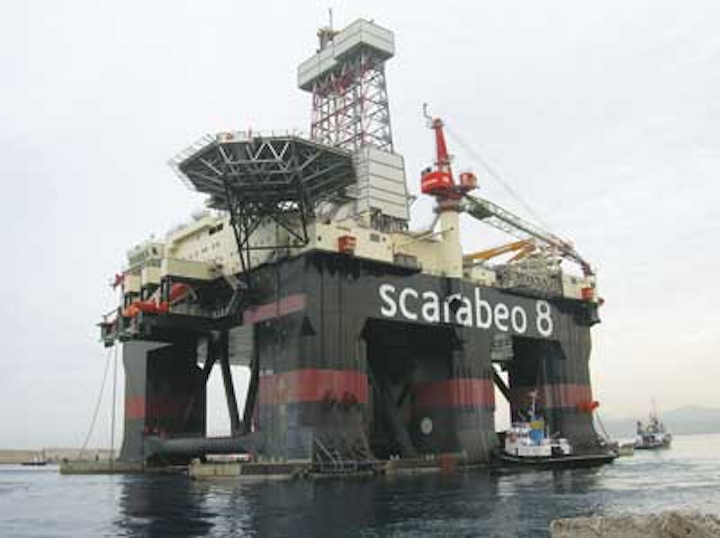 Jeremy Beckman
Editor, Europe
Fincantieri, Italy's leading shipyard group, best known for cruise shipbuilding and advanced naval vessels, is looking to capitalize on demand for ultra-deepwater drilling rigs. In the past, the Trieste-based company has built three drilling semisubmersibles and one jackup for Saipem, and other offshore construction vessels, although its approach to winning work in this sector has been "occasional."
However, an internal strategic review following changing market developments led to the formation this March of Fincantieri Offshore. The new division will continue to offer a range of vessel construction options, according to Giuseppe Coronella, executive VP of the company's offshore business unit, although its main focus will be on newbuild, next-generation ultra-deepwater drilling units.
"We have started a business model based on competencies for advanced drilling systems and integration of these into drilling vessels," he explained. "We want to offer customized, turnkey prototypes.
"We have studied rigs suiting our capabilities and distinguished by their complexity. In this regard we can draw on our experience building ships that present a high degree of complexity in terms of construction management, and without an option for even one day's delay in delivery."
According to Paul Carsten Pedersen, commercial head of the Offshore Business Unit, "Some yards are typically driven by production more than design considerations. Their vessels are not necessarily what international drilling contractors are looking for to suit their specific drilling needs."
Coronella added: "Fincantieri, in contrast, is focused on customization, which leads to innovation. Ultra-deepwater drilling requires design ability to configure ongoing upgrading of certain equipment items and the ability to arrange these onboard, improving operation and safety."
Fincantieri has established relations with engineering contractors specializing in innovative drilling rigs and analyzed designs from Friede & Goldman, GustoMSC, Ulstein Sea of Solutions, and Frigstad Engineering. A partner is NLI in Norway, which has designed the Northern Light tower, a new type of derrick with a welded box-beam structure, as opposed to the traditional bolted lattice-type construction.
According to Pedersen, this tower concept is suited to any type of offshore drilling rig – advantages include weight savings, safety from falling objects and improved efficiency, as the open structure facilitates entry of pipes and equipment onto the drill floor. "It is easy to winterize in arctic conditions, and is much simpler to establish and to maintain because of the easy access via the corner posts of the drilling tower."
Fincantieri will draw on the expertise of its subsidiary companies Seastema and Cetena in, respectively, design of integrated control and monitoring, power management and propulsion control systems; and hydrodynamics, materials, noise and vibration research.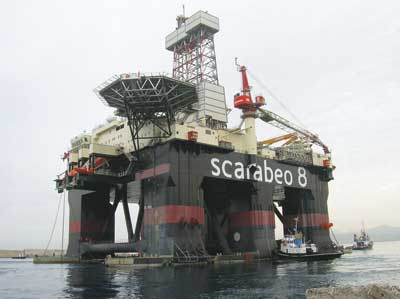 Fincantieri built the Saipem semisubmersible drilling rigScarabeo 8.
The company's marine system business unit is dedicated to design and manufacturing of equipment such as thrusters, stabilizers, and emergency diesel engines and in the future may manufacture risers and other offshore components.
Additionally, the group has assembled the "Polo Offshore Supply Chain" to cooperate on construction projects. It includes Italian companies Drillmec for drilling systems; Goriziane for handling equipment; Meccano for functional and integration engineering; Navalimpianti-Tecnimpianti for lifting and handling, hydraulic and automation systems; Navalprogetti for offshore design and engineering; offshore EPC contractor Rosetti Marino; Blue Edge for subsea system engineering; Elettra Energia for electrical and instrumentation engineering; Imesa for electrical equipment manufacturing; and Aqua Engineering for subsea engineering.
"Drilling contractors are recognizing this arrangement," Coronella said. "With our network of suppliers and European partners, we have provided interaction with the clients who saw that we could manage the design phase and integration in unison."
Pedersen added: "We need to increasingly take mechanization on the drill floor to automation, which would be a big challenge both for the equipment suppliers and for ourselves. It's important, however, to minimize flat spots on the drilling curve, which are often due to inefficient logistics. Some of this can be addressed by our design capability in harness with the drilling contractors' operating teams."
Last month, Fincantieri Offshore was in the final phases of tender for a newbuild rig, in competition with two other bidders. Among the group's network of yards there are several that could take on this and other potential projects. The group also remains in the market to build other types of vessels currently in demand, such as offshore accommodation units and pipelayers.