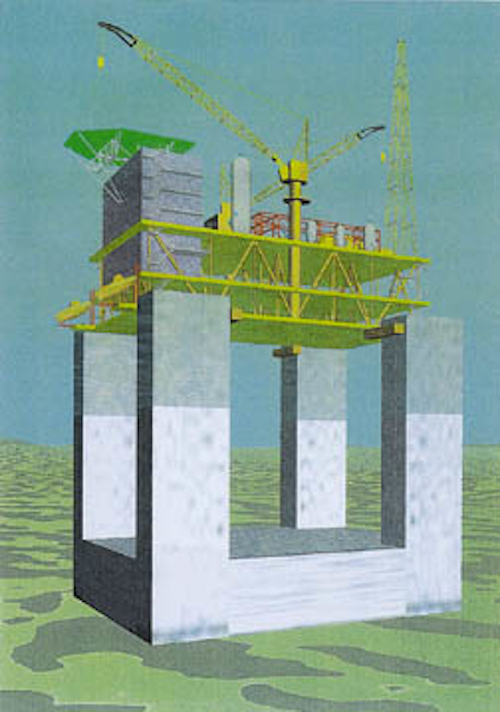 New concepts place accent on ease of installation, versatility, safety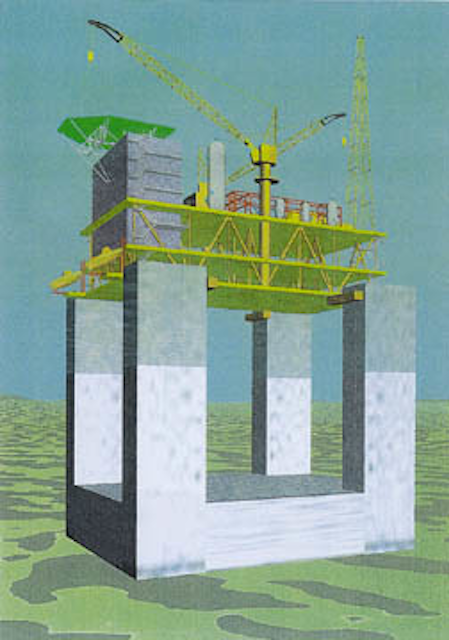 Doris' Self Elevating Platform with storage (full Archimedes principle).
During this decade, the oil industry has come to accept, if not embrace, new concepts for deepwater or marginal field development. French engineering groups have had more success than most implementing new ideas, such as the Nkossa Field concrete barge (Bouygues Offshore) or the TPG 500 jackup production platforms in the UK North Sea.
The flow of ideas continues - some for shallow water fields in harsh or moderate environments, others strictly for mild deepwater conditions in the Gulf of Guinea. But there is also a concept which can be re-configured for deepwater service in all latitudes.
SEPAT
In the North Sea, floaters have been used for remote marginal fields, but the object of fast track, low cost development has usually been defeated by cost overruns incurred by ill-conceived topsides/hull interfaces. In cases where standalone platforms have been tried, commissioning and offshore hook-up costs have proven hard to suppress.
Doris Engineering's latest solution is SEPAT - Self Elevating Platform of the Archimedes Type. This is a self-supporting platform housing production and drilling equipment, living quarters and (if required) oil storage. Everything including the substructure, deck, and topsides can be constructed in the same dry dock. The platform can be installed complete on its final location. Deck erection is based on the Archimedes principle, which Doris claims is less costly than jackup platform techniques.
Currently, three configurations have been conceived. The first - for a SEPAT without storage - features a traditional box structure hull, either square or rectangular. This supports the topsides and four legs, and has enough free board during tow-out to maintain stability even in severe seas. The platform's four legs can slide into four housings situated at each of the hull's corners.
The second configuration - including storage and buoyant legs - requires the deck to be laid on top of the storage tank. The third concept, for a platform with storage (full Archimedes principle) involves fabricating the legs as single units, to provide the required air gap when the platform reaches its offshore location.
In this case, deck and topsides construction is achieved by ballasting the hull in a deeper site. During ballasting, the deck slides against the legs and is connected to them when the proper elevation is attained. Then the platform is de-ballasted, towed, and installed at its final site.
Drilling can be performed either from the platform or via a cantilever jack-up rig alongside. Wells could be installed through one of the legs. If the wells are outside the legs (leaving no support for conductor pipes) a conductor with guide frames can be provided. As an alternative, production risers could be tensioned from the deck.
Nominal range of the concept is as follows:
Water depth: 30 - 120 meters
Topsides: 2,000 - 25,000 tons
Storage: 100,000 - 600,000 bbl
Functions can include production, drilling, and living quarters.
So far, studies have been made for a steel Ground Based System (GBS), 600,000 bbl storage version, for Veba Oil's Hanze oilfield in the Dutch North Sea (in association with Hyundai). But a drilling version has also been devised for duty in 2-8 m of water in the Caspian Sea. This unit could be built in Europe or near the Black Sea, towed out to the Caspian in sections less than 16 m wide, then reassembled on site. SEPAT is also being bid for Elf's Amenam development off Nigeria, where water depths are just 45 m, but the deck would be heavy (again feasible under the SEPAT concept).
Storage, Drilling, and Production
Another North Sea study, for a storage, drilling and production platform, involves the following characteristics:
Storage - 180,000 bbl
Topsides weight - 7,500 t (three floors - structure plus equipment)
Drilling from a cantilever jack-up inside a leg, with up to 12 wells
100 year wave Hm = 21 m T= 15.2s
100 year wind 42.5m/s 1 mn at 10 m
100 year current 0.93 m/s at surface
Soil conditions - weak sand
Platform to be installed over a pre-drilled template including four pre-drilled wells. Substructure structural weight - 10,000 t of steel, which could be built entirely in the dry dock of a naval shipyard.
According to Doris, the SEPAT solution is better than the floatover integrated deck method (on a specially designed jacket or on a GBS). The SEPAT avoids the use of a derrick barge, needed to install that jacket, and the mechanical equipment that has to be fitted to absorb shocks during mating of the deck and substructure.
The key advantages of SEPAT include:
The deck and topsides are complete when the platform leaves the construction yard.
It provides a simple system for elevating the deck above the highest wave, applying Archimedes principle.
The legs are not fatigue sensitive because their steel thickness can be adjusted at a marginal cost.
The footing can be adjusted to any soil type.
Oil or condensate storage is easy to accommodate, avoiding the need for a Floating Storage Unit (FSU) and high OPEX, based on the fact that mooring a vessel in shallow waters can be difficult in severe sea conditions.
The installation is virtually weather-independent.
Doris is also continuing studies on its deepwater drilling and production semisubmersible and Mini-TLP concepts (see Floating Production feature, Offshore Magazine, May 1998). The Mini-TLP has been proposed jointly with Foramer Pride for Elf's Dalia development scheme in Angola block 17.
Barge update
Bouygues Offshore designed the concrete-hulled barge for Elf Congo's Nkossa project. It continues to develop barge-based solutions aimed specifically at deepwater fields in the Gulf of Guinea or offshore Angola and Nigeria.
Two years ago, it unveiled its Multi Function Barge (MFB) concept at OTC. Refinements have been introduced since, as more data has emerged on the recent batch of West African deepwater discoveries. In its current guise, it is a spread-moored, integrated field development barge, capable of drilling, production, and storage in waters 400 - 1,400 meters deep (although extended depths are now under review). Dimensions of the vessel are 340 m long, 68 m wide and 36 m deep.
The MFB has a centrally located wellbay housing full drilling facilities and a moonpool, with a dual concentric drilling riser. The barge can accommodate 20-30 surface trees which are sheltered at the wellbay. (It is also equipped to perform its own workovers/well completions, which avoids the need to contract an intervention semisubmersible at high cost, with long periods of shut-in production.)
"At the beginning," says Bouygues Offshore R&D Manager Claude Valenchon, "there were a lot more wells on the concept, but soon the oil companies were finding that what they had were shallow, pancake-shaped reservoirs rather than potato shapes. As a result, planned well numbers have been reduced typically from 40 to 20."
In production mode, the MFB provides all topsides equipment typical of a large FPSO. The barge can handle oil throughput of 200,000 b/d. Crude storage capacity is 2 MM bbl. Utilities and accommodation are stationed at the aft of the barge, away from the drilling facilities (as are the storage tanks).
Of late, Bouygues Offshore has paid special attention to safety aspects on the MFB. "This is linked to the way we arranged the topsides," says Project Engineering Manager, Jerome Hugnot. "With a huge surface area on the deck - 20,000 sq meters - we decided to use some space for segregation purposes to make the crew more confident. That's why process equipment has been pushed to the barge's fore, away from the central wellbay.
"In the transverse section, blast walls have been added to separate the process part from the moonpool, while in the longitudinal section, you have the drilling modules with all the equipment located behind fire walls. This way, all activities are physically segregated, so if there is an event, for instance, on the mud treatment part, it will not affect the surface trees.
"These changes follow the recommendations of an in-house risk analysis survey. We have also decided to refine further the area around the wellbay - we intend to use 3D models to assess blast impacts, starting this spring."
Working as partners with Bouygues Offshore on the MFB is Sedco Forex, which is designing the drilling plant and would also act as the drilling contractor. Also on the project is 2H Offshore Engineering in Woking, UK which performs riser analysis. Institut Francais du Petrole was also involved early on in the riser design.
The same team is also collaborating on another new concept for deepwater West Africa called the Wellhead Barge. This has analogies to the MFB in terms of drilling, completion and workover capabilities. It is currently designed to accommodate 12-30 dry trees.
However, it would only be capable of partial onboard processing (liquid/gas phase separation), and would not offer storage - oil and gas would be exported to an FPSO".
Like the MFB it would be spread moored, but the dimensions are much smaller, at 180 m long, 60m wide and 16 m deep. However, the same level of analysis is being conducted for equipment/utilities segregation, in addition to hydrodynamic behavior, riser stroke and clash avoidance studies, in order to insure 100% reliability, Hugnot says.
Similarly, the drilling equipment location is central. Like the MFB, it could also accommodate a tender-assist rig alongside, or alternatively, the wellhead barge could work in association with an MFB. Hull and topsides construction could be undertaken comfortably by major yards, with 30 months the likely period to start-up including offshore commissioning.
Deep draft semi
Technip-Geoproduction's deep draft semisubmersible concept, the TPG 3300, is designed for a wider arena, from ultra-mild (Gulf of Guinea) up to ultra-harsh (North West Atlantic). A three-year study was recently concluded concerning issues associated with a West of Shetland installation.
The three-phase study was co-financed initially by BP and then BP Amoco, with Statoil joining in for the third phase. The reasoning was if the technology could be demonstrated to work in normally rough conditions, it could also be considered for more tranquil locations.
With this view in mind, tank tests are scheduled for this summer to simulate the platform behavior.
TPG 3300 comprises basically:
an outfitted, water-tight hull with drilling and production facilities on the deck
Leg columns to provide buoyancy, including the mechanism to raise the deck above the water line. The legs can be latticed, or alternatively the lower sections can be adapted for oil storage
a flooded pontoon 80-110 meters above sea level, providing resistance to heave
catenary mooring or taut rope mooring system.
Heave characteristics of the platform are low, which permits use of rigid conductors and risers and dry Christmas trees. Unlike other deep draft semis, it can be constructed at a shallow water site, with pre-commissioning concluded prior to the field tow-out. Also, it does not require a heavy lift vessel for the installation.
The technology is derived from several principles employed for the TPG 500 jack-up production platforms, of which two are currently in service or under construction for UK North Sea fields - BP's Harding and Elf's Elgin/Franklin. For instance, load-out of the deck onto the pontoon would be a similar operation to the transfer of the 25,000 t Harding platform onto its transportation barge.
Both concepts deploy the same proprietary jacking and locking techniques, which are compliant with fixed platform regulations, not jack-up codes. Deck construction would be identical to the TPG 500 process, comprising a hull fabricated using flat plate methods and outfitted with topsides production facilities. TPG 3300's leg buoyancy adopts the same principle as a semisubmersible, although the shape has been optimized - hexagonal, with three chords that mate with the lattice leg sections - to minimize drag.
Over 15,000 man-hours have been devoted to application studies off West Africa, Brazil, the Gulf of Mexico, and the Shetlands area. But the BP Amoco study is the most extensive. Initially, BP wanted to compare the TPG 3300 to other concepts for 1,300 m water depths in North West Europe, producing 150,000 b/d but without oil storage.
First-phase work demonstrated the credibility of dry trees in this environment, with the extreme riser stroke identified as 6 meters against an acceptance criterion of less than 8 m. Phase two, which began late in 1997, looked at aspects such as wellbay layout to avoid conductor clashing. This phase also examined the riser system, drilling procedures, and construction/cost/ schedule considerations - both in 1,300 m and 750 m water depths and specifically West of Shetland. The final four-month phase, just concluded, demonstrated that the concept can employ dry trees successfully with the well conductors supported by top tensioners.
Among the other conclusions were:
Mooring system - weather window for installation must be reduced, as there are restrictions on AH tug operations West of Shetland. So a minimum number of mooring lines has to be defined. But a single line failure cannot be taken for granted in this environment, therefore single line and dual line failure impact needs to be studied
Keel joint design - in this environment, the well conductors must pass through the pontoon, which demands use of a keel joint. This requires close evaluation, due to concerns over fatigue implications
Riser analysis - 2H Offshore Engineering is reviewing the drilling riser, well conductors and pipeline SCRs for hydrodynamic behavior, displacement, tensioner loads, and other matters
Wellbay layout - potential problems with congestion, caused by the need to accommodate relative motions of the drilling riser and well conductors, tensioners, flexible flowlines, and surface BOPs. It would be feasible to use a single drilling slot in these water depths, with a 'parking slot' on the seabed for the riser during completion operations. The derrick could be skidded over all the remaining slots to undertake the completions (through use of a lightweight completion BOP). But further work is needed on operating envelopes and detailed relative motion analysis
Drilling operations - there are concerns over reliable running and positioning of the drilling riser West of Shetland, especially with up to 20 risers in close proximity to each other. ROVs at present lack the power to fly the drilling riser to its location. West of Shetland currents are also a problem. One solution under review is a patented seabed riser pull-in configuration.
Technip-Geoproduction's Deputy General Manager, Pierre-Armand Thomas, claims that two to three oil companies are now considering the TPG 3300 seriously as a reference case for screening. "Before, people spoke only about TLPs or Spars - but as you go deeper, the TLP runs out of steam, because the tendon costs get so high. Other operators are not comfortable with Spars as the only technology available for ultra-deepwater."
Relocation potential
The more established TPG 500 is suited for medium-size to large field developments in shallow to mid-depth waters. Last August, Technip-Geoproduction entered a co-operation agreement with Aker Maritime, allowing the latter to market the TPG 500 in Norway. Currently, Technip-Geoproduction is doing a study for a planned Norwegian field development, and providing information for two other Norwegian projects.
Minimized offshore hook-up costs is one of its selling points to Norwegian operators, according to Technip-Geoproduction's Colin Hough. The TPG 500 does not require a big mooring spread to be available at a specific date for the installation. "So if the project is finishing ahead of schedule, you can install it earlier." The hook-up situation is even more acute offshore NorthWest Australia, where there is no significant local lift capability. This in turn pushes up installation rates, he points out.
Hough claims the TPG 500 worked out $50 million cheaper than alternative concepts offered for Harding. It is designed for a 25-year oil production life, followed by a 10-year reservoir blowdown to get the gas out.
Relocatability is another feature of the TPG 500. This apealed to the Harding partners, Hough says, but as they were so confident of the reservoir's long-term performance, it was not considered for the development plan. However, this remains an important issue in the North Sea in particular, where some FPSO operators have been hurt by over-optimistic reservoir predictions.
Attempts have been made to re-deploy FPSOs on different marginal fields for short-term production or extended well tests, but these have been defeated by depressed oil prices. Technip-Geoproduction, however, believes the concept could be made to work using the TPG 500, and has therefore developed a multi-field version, featuring an integrated storage tank.
"The concept is a relocatable jackup associated with a subsea relocatable storage tank," says Armand-Thomas. "This gives the operator the ability to store oil and offload to a tanker over a long period, or to develop three to four fields sequentially. So if the first reservoir proves disappointing in production, the operator just ups and moves on.
"The tank is in the shape of a floating dock. You can build the tank anywhere and the jack-up separately. For the mating, you could float the tank out, de-ballast it, put the jackup on top, connect and then weld. The facilities can be adapted to different sands and can be used for drilling and with pre-drilled wells." It would also be relatively easy to ship through in sections to the Caspian, he suggests.
Reference 8th Offshore Symposium, Texas Section of the Society of Naval Architects and Marine Engineers, Houston, February 1999.
Copyright 1999 Oil & Gas Journal. All Rights Reserved.