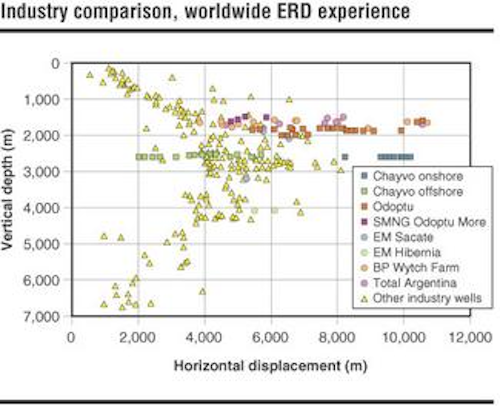 Development drilling is under way at the coastal well site for Sakhalin-1, Russia's second major offshore oil and gas project. Production from the $5-billion first phase should start late next year, via two clusters of long-reach wells drilled from onshore and offshore locations. Both have been heavily fortified to sustain operations in one of the world's most hostile, ice-prone environments.
The Sakhalin-1 license area includes three fields discovered by Rosneft-Sakhalinmor- neftegaz between 1977 and 1989, with potential recoverable reserves totaling 2.3 Bbbl of oil and 17.3 tcf of gas. All are located off the northeastern side of Sakhalin Island, close to the Sakhalin-2 fields under development by a Shell-led consortium.
The first phase of Sakhalin-1, operated by Exxon Neftegas, is focusing on the Chayvo field, which will generate oil at up to 250,000 b/d, and sales quality gas for use on the Russian mainland. Second-phase operations will encompass the Odoptu and Arkutun-Dagi fields, and gas exports to other countries in the Asia-Pacific region.
Stephen Terni, president of Exxon Nefte-gas, outlined the drilling schedule at IBC's recent Sakhalin Oil & Gas Conference in London. Shore-based extended reach drilling – a technique pioneered locally by Rosneft-SMNG – had started last June from a purpose-built site at Chayvo beach on the Russian mainland. Ten wells are being drilled horizontally under the seabed from the Yastreb land rig at distances of up to 11 km to tap the northwest flank of the main Chayvo field oil zone.
"We considered extended reach drilling the most environmentally friendly and cost-effective approach," said Terni, as it lessened the amount of offshore structures required.
Extended reach wells will also be drilled into Chayvo's southwest flank from the 20-slot offshore drilling and living quarters platform, Orlan. This installation is undergoing refurbishment at the Amur Shipbuilding yard in Kom-somol'sk-na-Amur, and according to Terni will be the world's first drilling installation equipped with a concrete gravity base to safeguard operations against ice loads and seismic activity.
The platform will be towed this summer to Korea for integration of drilling and test separation modules, followed by final tow-out to the offshore location in summer 2005.
Chavyo's full wellstream will be routed initially to a processing facility at Chayvo beach, which is also connected to the onshore well site via a purpose-built, 830-m-long bridge across Chayvo Bay. Oil will then head southwest across the island through a 24-in. pipeline to an export terminal at DeKastri on the mainland, featuring two 100,000-cu-m storage tanks. Oil will be offloaded to a double-hulled tanker via a single-point mooring, based on proven North Sea systems. Icebreaker vessels also will be employed in an attempt to maintain year-round operations.
On reception at Chayvo beach, separated gas will be treated at an 800-MMcf/d processing facility for onward transmission to the mainland. Some of the dried gas will also be reinjected into the reservoir.
null
Land rig preparations
The Yastreb land rig was designed, engineered, and installed by Houston-based Parker Drilling, which is also managing the current campaign from Chayvo beach. According to the company's engineering vice-president, Denis Graham, also speaking at the IBC conference, this is the industry's largest and most powerful land rig. Due to the severity of seismic activity in this region, the drilling module has been secured to pilings driven into the permafrost.
Yastreb can operate in temperatures down to -40° C, and is fully enclosed, allowing personnel to work in a reasonably comfortable environment year-round. It has also been designed to safeguard the local environment. For instance, all discharge is collected, processed, and re-injected into the earth, while the entire rig has been positioned on liners to contain leakage should a spill occur.
Six diesel generators outputting 10 MW provide power. The mast has a hoist capacity of 1.5 million lb and employs a 3,000-hp OIME drawworks. Its top drive provides drilling torque of up to 94,000 ft-lb, and in concert with an iron roughneck, delivers make-up torque for tripping in and out of the hole. Four 7,500-psi mud pumps administer downhole hyd-raulics, with over 9,000 bbl of mud storage.
The concept for the Yastreb was developed and proposed to Parker early in 2001, and the contract for construction, mobilization, delivery, and operation was issued that October. Over the next few months, equipment and components were fabricated in California, Indiana, Louisiana, and Texas in the US, and in Canada, Germany, Norway, Russia, and Sweden. Parker handled final assembly, rig-up, and commissioning at its New Iberia, Louisiana, facility, the work finishing in June 2002. Completion of this schedule in 8 1/2 months – a record for Parker for a newbuild rig – was necessary to meet the weather window for delivery to Sakhalin later that year.
Subsequently, the rig was disassembled and packed into crates for transportation on three cargo vessels, one of which sailed from Houston. The other two, which departed from Seattle, were loaded up with cranes, forklift trucks, and vans. On arrival at the port of Korsakov on Sakhalin Island on Aug. 9, 2002, the various packages were sent onwards by barge, rail, and trucks to the Chayvo beach well site for rig-up. There, barged items were offloaded onto the beach via a cargo vessel, using a specially erected causeway of floats.
Several barge shipments from Korsakov were needed to get the largest items across, which included the living quarters, derrick, substructure, and much of the associated drill pipe barn. Diesel and base oil storage tanks were built in Russia and sent by barge from the Amur shipyard to the Chayvo well site.
Operations started on June 6 with drilling of the cuttings injection well, which was completed six weeks later. Then 30-in. casing was driven to a depth of 90 m for all 10 planned wells on the location, using a diesel hammer located in the derrick just below the top drive.
"The entire rig was skidded from well to well, driving each conductor casing," Graham said. "This process enabled us to establish the ability of the rig to efficiently skid from location to location." Skidding time from well to well averaged 1 to 1 1/2 hr.
To meet the seismic design criteria, the mast's vertical racking capacity had to be limited to 3,000 m. This was considered sufficient for the reinjection well, but tubulars for the 10,000-m extended reach wells had to be supplied from the pipe barn. The latter was assembled away from the Yastreb, to avoid interference with drilling activity and was fully operational by Aug. 5. It measures 130-ft long by 134-ft wide, with 23-ft clearance height inside. Stands of drill pipe and casing up to 20-in. diameter and up to 30 m long can be made up and racked horizontally in the barn. Storage capacity is 11,000 m of 5 7/8-in. drill pipe and 8,000 m of 9 5/8-in casing.
The first extended reach well, which was started on Aug. 8, has a 9.4-km reach-out, and a vertical depth of 2.6 km. During drilling of each well, progress measurement data is relayed simultaneously to the driller on the rig floor, to rig offices at the yard, and to Parker's main office in Houston, allowing all parties to analyze the drilling performance in real time. This capability rapidly accelerates the decision-making process, Graham said. Tools such as the top drive and diesel engines are also equipped to transmit real-time performance data, allowing maintenance decisions to be taken by engineers working at remote locations.