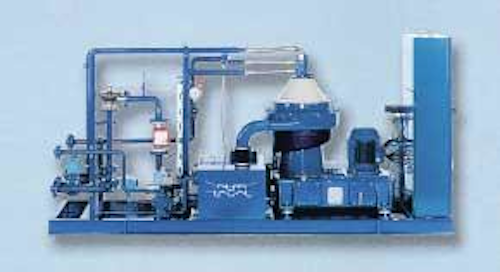 Platforms in the Middle East, Brazil, and Gulf of Mexico are benefiting from new fuel treatment technology from Alfa Laval. The Falcon series of fuel/lube oil centrifugal separators is a response to growing demands from offshore customers for more reliable gas turbine/diesel engine perfor-mance, and extended engine life. Existing cent-rifuge systems did not satisfy these require-ments, according to Alfa Laval Marketing and Sales Manager Hans van der Voort.
Fuel oil purifiers are designed to protect engines by removing water and sludge particles from the fuel. Lube too can be affected by sludge emanating from the combustion process or as a result of wear on moving parts. Cooling system leaks or salt water can also contaminate lube.
In the Falcon series, van der Voort says, "By reducing the pipe work and the size of the sludge tanks, we have also reduced the liquid holding volumes from almost 800 down to 420 liters. These measures have decreased the system's wet weight by around 15%, but with the same footprint as existing centrifuges. Disc inlets too have been improved. We also replaced the wing inlet with our new Optiflow disc inlet to ensure gentle acceleration of the process fluid. The extent of the improvement has not yet been quantified, but based on our experience from crude oil, it is significant.
"Due to the improved separation performance, we can now use smaller size centrifuges for the same throughput, and this has led to 30% lower operating costs."
No pre-filtration is required, and the systems have been designed in a compact arrangement in a skid for easy installation and subsequent removal.
The four Falcon modules have fuel treatment capacities varying from 9,000 to 50,000 liters/hr. They are available in a standard configuration, but with numerous added options that allow them to be tailored to individual needs, such as self-cleaning purifiers for heavier fuel and crude oils, wash water mixers for removing sodium and potassium from crude, explosion-proof configurations, process heating, and remote operation of the complete system.
FPSO benefits
Alfa Laval sees a promising market for the new systems on FPSOs, where large gas turbines typically operate with 10-25 cu m/hr of diesel fuel. The first unit was sold to Occidental in Qatar, for installation on the Idd el Shargi oil-processing platform, currently undergoing general refurbishment.
"In this case, they are simply upgrading to a higher capacity centrifuge," van der Voort says. Two Falcon 25/200 modules, each with a capacity of 2 x 25 cu m/hr, have also been supplied to the two Caratinga field FPSOs in Brazil's Campos Basin. These modules are capable of handling a single amplitude of roll angle of 15°, and a single amplitude of pitch angle of 4°. Alfa Laval is also close to clinching an order for a major new deepwater project in the Gulf of Mexico.
null
IMO-compliant oily water system
At Offshore Europe last month, Alfa Laval introduced Raven, an oily water cleaning system for mobile drilling rigs, designed specifically to comply with IMO MEPC.60 (33). This is a new procedure that will require all rigs operating in European waters to ensure discharges of no more than 15 ppm oil in water, even when handling what is virtually 100% crude (with tiny fractions of water).
Raven's self-cleaning, centrifugal separator incorporates an Optiflow disc inlet – again, ensuring gentle acceleration of the process liquid, leading in turn to improved separation efficiency, the company says. Alfa Laval also made numerous changes to its standard centrifuge bowl, such as introducing a new feed zone inside the disc stack. Unlike other systems that employ filters and settling tanks, Raven requires minimal holding tank volumes.
"Compared with static separation systems for oily water treatment, centrifugal solutions such as Raven have a much smaller footprint and holding volume," van der Voort explains.
Raven also uses the same interface as established Alfa Laval oil treatment systems and can be linked to the engine control room via a serial bus communication.
The system's feed pump delivers untreated drain and bilge water to the cleaning module after it has been pre-filtered. The desired oil-in-water content is set on a monitor positioned on the clean water outlet. If oil content is at or below the pre-set ppm value, cleaned water will be sent to the clean bilge tank or discharged overboard. Should the ppm value be exceeded, bilge water will be returned to the dirty bilge water feed tank.
Drain water effluent, comprising a mixture of fuel and lube oils, drilling mud, chemicals, detergents and additives, normally comes together as stable emulsions. For de-oiling of tougher emulsions, further treatment may be needed – Alfa Laval recommends mixing environmentally friendly feed conditioning chemicals, using static mixers, dosed remotely from the Raven's control panel.
One system has been sold so far, to the Mærsk Enhancer jackup, currently undergoing an upgrade to comply with the new IMO regulation.
For more information, contact Hans van der Voort, Alfa Laval. Tel: +45 3953 6375, fax: +45 3953 6553, hans.vander.voort@alfalaval.com, www.alfalaval.com.