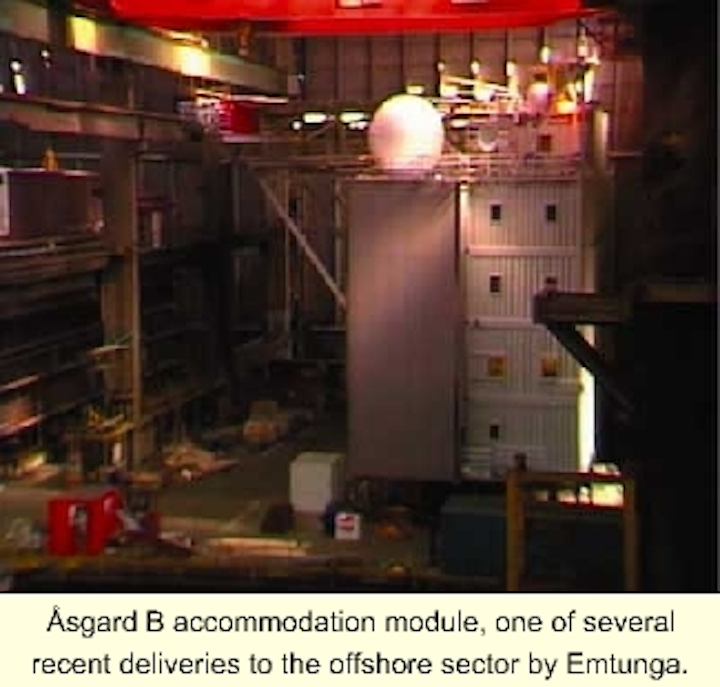 Gas and steam turbines
For the oil and gas industry, offshore and onshore, ALSTOM Power offers gas turbine packages in the 4-45 MW range for power generation and mechanical drive. These activities are concentrated out of Finspong, Sweden and Lincoln, UK. Power modules have been supplied for platforms and FPSOs, and the company also supplies combined cycle plants for offshore installation, featuring low fuel cost and low emissions, utilizing its steam turbine program in a range up to 40 MW. Offshore packages are available with dry, low emission combustion technology. They are capable of operating on a wide variety of fuels, and are easy to maintain on site. ALSTOM Power's turbine range embodies technologies formerly incorporated within ABB and Alstom Energy.
Torpedo technology ROVs
Torpedo production started in Sweden in 1910, and as a result, Bofors Underwater Systems possesses a massive bank of experience and know-how in underwater technology. The company is known for its ROVs, which feature a unique control system, giving 360 degrees of freedom in all attitudes. More than 100 such systems have been delivered to customers throughout the world for both military and commercial applications. The Sea Owl 500 Mk IV is specially developed for the offshore industry in the harsh environment of the North Sea.
Turbo performance
Turbomachinery such as gas turbines, compressors and diesel engines depends on clean air to perform to expectations during long periods of operation. With 25 years experience of supplying air intake and acoustic systems to North Sea installations, Camfil Industrifilter combines high efficiency with low operating pressure drop for maximum energy efficiency. As part of the Camfil Group, Industrifilter can offer a complete range of products worldwide.
Interactive training, simulators
Cell Interactive Training & Simulation, formerly Mandator ITS, is one of the world's leading suppliers of modern training systems in the form of interactive training and various types of simulators. Cell ITS helps companies and organizations develop expertise and competitiveness by offering both internal and external customer training. The company has years of experience working with the latest in educational technology and methods for advanced training systems.
Ex-proof radio remotes
The Cavotec Group with global presence is a manufacturer of special equipment to the offshore industry. It specializes in the Ex-proof environment, radio remote controls, slipring assemblies, cable chains for power feed and cable / hose reels which are widely used for safe and reliable applications in the oil and gas industry.
Water treatment
ECT Offshore Service offers complete services for the treatment of drinking water offshore. Its systems have operated on more than 250 rigs and platforms, many of which have annual service contracts with ECT. Due to the company's close cooperation with the Norwegian government, it can ensure that the installations fulfill their requirements for this service. ECT also runs courses each year approved by the government, entitled "Drinking Water Treatment for Offshore Personnel."
Living quarter modules
Emtunga International, based in Emtunga and Gothenburg, Sweden, has been producing living quarters and technical modules for the offshore industry since 1974. During the past 18 months, it has delivered three large modules - the 58-man quarters for South Arne, the 120-man quarters for the Åsgard B platform and the electrical and instrument building for the FPSO Girassol. In addition, several smaller deliveries have been executed for various offshore projects. The most recent contract is a 1,000 ton accommodation module for the Petronas Carigali/Triton development of the Cakerwala Field.
Stainless steel markers
Fleximark is a manufacturer of marking systems for wire cables and components to the offshore industry. It is also one of the main suppliers of stainless steel marking products to the North Sea, with applications such as the Visund semisubmersible and the Kollsnes gas terminal. The stainless steel system is designed for cable and component marking for tough environments, outdoor use and high temperature applications. Over the years, Fleximark has built up service systems and delivery arrangements to meet customers' requirements. Its products are sold internationally, including to offshore projects in Australia.
Gas turbine cleaning
Gas Turbine Efficiency has developed the first cleaning concept for gas turbines using the same nozzle installation for on-line and off-line cleaning, thereby drastically reducing the installation and hardware cost. It is designed for use on every type of gas turbine, installation, or application - new or retrofit. The concept saves water, space, and weight, and has been subjected to extensive on-site and test cell tests, so that it offers the most cost effective cleaning program available.
Advanced drilling/production
GVA's business idea is to conceive, create and execute integrated conversion and newbuilding projects, preferably based on GVA - designs, within the semisubmersible drilling and floating production rig market. The GVA based-organization masters all basic disciplines such as general and project management, technical, finance, and legal. For large projects, experienced project people, from the extensive GVA network, extend the resources. GVA can take on projects ranging from conversions to newbuildings - whether on a project management or a turnkey basis.
Floating production
GVA Consultants specializes in the design and engineering of offshore floaters and ships. It has an extensive background in floating production vessels. Among these are the purpose-designed FPUs GVA 4500 Petrobras XVIII and Umoe/GVA 8000 Visund for Norsk Hydro. The company is engaged also in design of a Umoe/GVA FPU for Norsk Hydro's Troll C development and a Kvaerner GVA 70 FPU for Statoil's Aasgard B gas center (recently installed).
Powerful, versatile drives
Högglunds Drives has been working with manufacturers and operators of winches to optimize these applications for some 40 years. This experience and knowledge has made the Högglunds name well known for performance and reliability particularly within the mooring and lifting areas of the industry. Typical features of Högglunds winch drives are: high power capacity, up to 1,200 kW; withstand line pull at low and even zero speed, unlimited in time; very high mechanical and starting efficiency, no stick-slip effects; excellent low speed performance; and low inertia, so highly responsive to controls, and truly shock resistant.
Marine accommodation
The IMAC group consists of several Swedish and Norwegian companies with a worldwide clientele covering all types of marine vessels. IMAC's wide product range includes walls, doors, windows, wet rooms, galleys, floating floors, windows and glass partitions. Their products are certified worldwide and the range covers all fire classes. IMAC's quality system has been approved by Bureau Veritas Quality International in accordance with ISO 9002.
Deepwater mooring
The internet site www.Moor-It.com provides the planning tools on line that are necessary to design and plan global deepwater mooring systems to the user's precise specifications, and to provide immediate and accurate cost estimates through its direct equipment suppliers interface. Thus users (oil companies, contractors and associated personnel) can directly design, plan and also access legitimate pricing for those requirements, greatly reducing their initial investigative research time. This comprehensive mooring portal also provides users with related current world news and activities, events, technical papers, links, oil prices and a selection of appropriate company share prices.
Titanium technology
Permascand, a member of the Akzo group, is offering a technology package for the electrochemical and offshore industry: anode/cathode coating/recoating technology; specific knowledge on protection of titanium from corrosion due to stray currents; stray current dumpers - SCD; customized titanium products where corrosion resistance or high strength/low weight ratio are crucial; titanium pipe spools for firefighting and exhaust systems, clamps, fasteners and electronic pods; the biggest stock of titanium in Scandinavia and semi and prefabricated details for manufacturing of heavy process equipment. Permascand also offers a patented method for nitride hardening of titanium surfaces, thus increasing the service life in erosive and corrosive environments, lowering the friction coefficient, and avoiding galling.
Hot isostatic processing
Santasalo Powdermet has won major contracts featuring HIPed PM near-net shape products, supplied from the world's largest hot isostatic processing (HIP) facility. Applications are mostly pressure vessels in high strength stainless steel (ferritic 12% Cr, 6 Mo austenitic and 22-25% Cr duplex ferritic/austenitic grades) with excellent corrosion resistance. Products in sizes up to 15 tons have been produced in 1,200 mm OD, 2,800 mm length. The PM HIP method has mechanical properties equal in all direction of the component. Finite element analysis used in shaping HIP components helps reduce the weight by as much as 40%.
FPSO conversions
Stena Bulk owns and manages a fleet of well-maintained large tankers. During the next several years, these will be transferred from the tanker market to the offshore production sector. The tankers were designed and built for a long life. Use of mild steel with good scantling margins results in high thresholds against fatigue cracking. An extensive maintenance program has been applied ever since delivery. The tankers are considered today as the best certified candidates for FPSO or FSO conversions.
Oil spill surveillance
Swedish Space Corporation, well known for its leading position in airborne systems for the surveillance of oil spills, has pushed the state of the art in this field one step further. The new MSS 5000 System is establishing a new standard of usefulness in airborne surveillance. Radar and infrared images of an oil spill are geo-corrected and overlaid on an electronic map in real time to display the location and extent of the spill. The overview is also transmitted via data link to ship or shore for real time management information