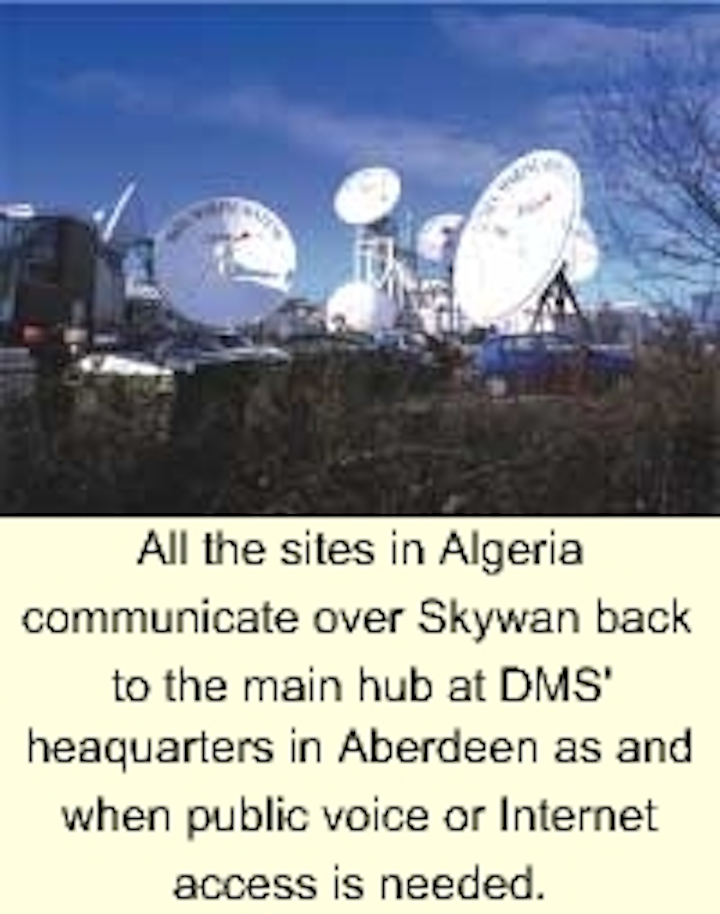 Whether in the middle of the Algerian desert or offshore Gulf of Mexico, oilfield exploration engineers need to be connected to the outside world. With no plug-in option, specially-tailored voice and data satellite services have to be designed. DMS has developed Internet services via satellite for remote locations.
Global satellite licence agreements with Intelsat, Eutelsat, and others give the company dedicated space segment so that voice and data traffic can be reliably transmitted to and from the remote location. In a recent application in Algeria for Sonatrach, the state-owned oil company required a fully managed e-mail, Internet and voice network, built literally from the ground up across three remote sites in the desert. Each site needed dedicated bandwidth for network service.
This turnkey project involved hardware, cabling, Internet backbone, satellite space segment, and engineering experience on the ground in Algeria. Once commissioned and installed, DMS was able to remotely manage and monitor services from a customer support center in Aberdeen, which allows for efficient trouble-shooting and reporting.
Algerian application
To handle the dedicated bandwidth for each site, DMS designed a meshed TDMA VSAT satellite network using routing-intelligent Nortel-Dasa Skywan kit. All the sites in Algeria communicate over Skywan back to the main hub at DMS' headquarters in Aberdeen as and when public voice or Internet access is needed. However, the kit installed by DMS has built-in intelligence to prevent routing of traffic back to Aberdeen, if it has a "local" destination (site to site within Algeria). This avoids a "double hop" satellite loop, which seriously impairs the quality of voice transmission.
Another feature is that the satellite bandwidth is dynamically shared. If one site is busy, but the other two are quiet, then that one site will gain all the available bandwidth. But if all the sites are busy, then each is guaranteed a certain quantity of bandwidth.
In Aberdeen, DMS' expert network engineers configured, tested and commissioned the servers (Cobalt Linux mail and NT file/print). Once installed in Algeria these systems can be monitored and managed remotely by the DMS staff via a web-enabled management station in Aberdeen.
Security
Security is a prime concern for Sonatrach and to establish network security for all three sites, DMS installed Sonicwall firewall technology. The firewall allows network address translation (NAT) to be implemented, which hides internal Sonatrach IP addresses behind one single IP address presented to the public Internet. The firewall also protects against spamming and hacking from the outside, as well as against staff abuse from inside.
With full management control of this firewall from Aberdeen, DMS can complete changes, maintaining up-to-date security at all times. Once the systems are in place, DMS can capture data from well performances offshore West Africa, which the company is currently handling for Baker Hughes and Schlumberger.
Services
As the technology advances, so to does the service. Final tests have been completed on DMS' offshore-to-onshore video relay service. This service allows quality images from one or several cameras offshore to be presented on screen via a web browser. The images from ROV, CCTV cameras, or camcorders are relayed directly to a secure internet site or intranet, via existing data networks and satellite at the approximate speed of one frame per sec.
Using software developed by Aberdeen-based technical information service company, ODL, the images can be viewed in VCR fashion with play, rewind, fast forward, and freeze controls.
Finding the experts
Video usage on remote sites is increasing, but until now the expert still had to get to the site to analyze problems. With the video relay service, the cost-savings can be significant as problems can be routed to experts, wherever they are. There are no geographical limits.
Business Development Manager of DMS, Tim Everitt explains : "Imagine a subsea survey company has filmed a pipeline under the North Sea using an ROV camera. The company needs their expert to study the data, but he's in a hotel room in Paris. He simply plugs into the Internet and accesses what was happening on camera at 3 am or 12 noon or even in real time. Several people can receive the survey data and collaborate on problem solving, irrespective of location.
Everitt says that as the technology develops, and the bandwidth available offshore increases, the quality of images will become even better, and usage will not be limited to offshore production.