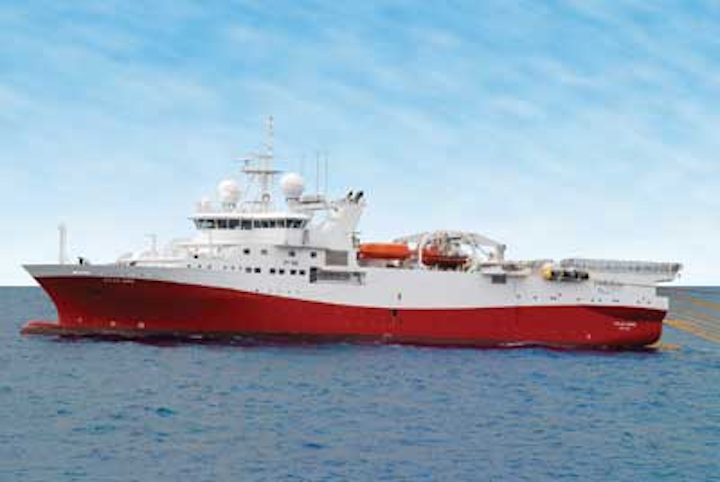 Jeremy Beckman
Editor, Europe
One of the fastest-growing contractors in the offshore services sector is Dolphin Geophysical. Since its formation in 2010, the Norwegian-owned seismic acquisition company has grown from zero turnover to $220 million in 2012, with sales revenue heading potentially for $500 million in the next two years. It has already worked in most of the major exploration provinces and is pre-qualified to work for nearly all the leading E&P companies.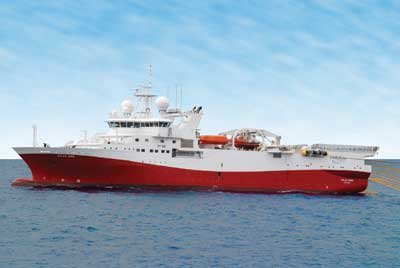 Polar Duke is one of two Dolphin vessels capable of towing 14 streamers at 100-m (328-ft) separation.
In response to the currently insatiable need for new exploration data, the company has committed to adding eight seismic acquisition vessels to its fleet over the next three years, targeting in particular the high-end 3D and 4D market. It has further plans to expand its multi-client services and data processing capabilities, and to speed up development of its in-house processing software.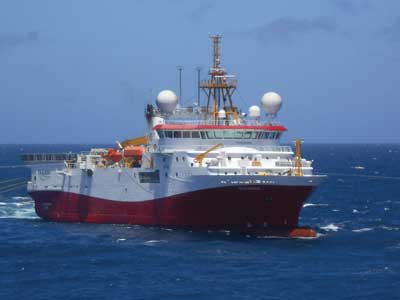 Polar Duchess performed Shell's first large-scale survey last year in the Orange basin offshore South Africa.
CEO Atle Jacobsen, speaking at a presentation earlier this year in London, said that when the company was formed, the seismic sector was emerging from a slump. "At the end of 2009, day rates for seismic acquisition vessels were down to $170,000. E&P spending that year was low, and there was vessel overcapacity, with rates having declined since the global financial crisis of 2008. But coming into the market at the low end meant that we could secure good deals, and we managed to secure risk capital from UK, US, and Far East investors."
Dolphin's current three-strong fleet comprises sister shipsPolar Duchess and Polar Duke, both capable of towing up to 14 streamers at 100-m (328-ft) separation; and the Artemis Arctic, upgraded to eight streamers. Over the next four years the company plans to add eight further vessels, with the first three due to be delivered by mid-2014.
First to arrive should be thePolar Swift in July, a 3,250-ton newbuilding commissioned from Sanco Shipping, designed to accommodate 14-16 streamers and with a bollard pull capacity of around 200 ton, allowing it to tow giant spreads. The 2D ice-class Artemis Atlantic should follow around year-end. This vessel, built in 2002 and presently known as Geo Atlantic, will be upgraded in Singapore by owner GC Rieber to handle 14 streamers. Dolphin has agreed to a fixed-term contract of 42 months, with possible extensions for up to four more years. And Sanco's newbuild Sword, a sister ship to Polar Swift, should be available early next year. In addition, the company has a charter agreement with GC Rieber for a new 22-streamer 3D vessel Super Duke, with the highest ice-class notation, to be built at the Kleven yard in Norway. Delivery is scheduled for March 2015.
At present Dolphin has a 5% share of the global marine seismic acquisition market, Jacobsen said. "We expect that to grow to 9% within two years, or maybe 10% following the addition of theSuper Duke…The three big players of CGG, WesternGeco, and PGS still dominate the sector, but the industry is set for further growth. Early in 2012 we were still trying to find work for our vessels – now we have $150 million of contracts in our backlog. Rates for big boats went from $200-220,000 per day in 2011 to $250-280,000 per day in 2012. This year we are booking capacity upward of $300,000 per day, and we expect to see growth of 8-10% on 2014. But all this is fuelled by high oil prices. The main uncertainty is, will we maintain a healthy oil price going forward?"
South Africa spread
Dolphin vessels have been active in frontier plays including offshore East Greenland, the Caribbean Sea offshore Colombia, India, and East Africa. Earlier this year the company was shooting seismic offshore Morocco for Britain's Genel Energy. Another vessel was mobilizing to work for Cairn Energy on a concession offshore South Africa.
Last summer, Shell commissioned Dolphin to perform an 8,000-sq km (3,088-sq mi) 3D survey over deepwater acreage in the Orange basin, 150-250 km (93-155 mi) offshore western South Africa. This is an area prone to bad weather and surface wave disturbances that can disrupt vessel streamer operations and impact data quality.
Polar Duchess mobilized to the location in late October, configured with eight x 8-km (5-mi) streamers, each separated by a distance of 200 m (656 ft). According to Phil Suter, VP marketing and sales, the company devised the widest tow possible so that the vessel could complete its work during the limited four-month weather window. This would have been virtually impossible with a standard pattern of 100-m (328-ft) separation, he claimed. The vessel's high engine shaft power and its 210-metric ton (231-ton) bollard pull capacity allowed it to navigate the choppy waters with the giant spread. The work was completed in February a week ahead of schedule. "It ended up as probably the most efficient seismic survey Shell had shot in the last 20 years, with very few interruptions," Suter said.
Last year Dolphin invested $60 million in multi-client (MC) services, and could commit a further $70 million to this activity in 2013. Its MC library currently holds over 10,000 sq km (3,861 sq mi) of 3D and 43,000 km (26,719 mi) of 2D data. "We will invest where the returns are best," Jacobsen said. "There is a lot of interest at present in the Norwegian Barents Sea, and the UK central North Sea, following recent license round awards."
In February the company committed to Phase 2 of a 3D MC survey in the UK central North Sea, which started last summer. This takes in a region on the west flank of an emerging oil province that had been overlooked prior to EnCore's Catcher discovery. It is also the first project to apply Dolphin's SHarp broadband seismic method.
SHarp's deep, flat cable makes it easier to conduct amplitude analysis (AVO), pre-stack inversion and reservoir characterization, the company claims. Through increasing the seismic bandwidth, SHarp can provide a higher-definition image and a more accurate description of rock properties, sandstone or shale, the likelihood of finding gas or oil, and flow potential. According to chief geophysicist Dr. Gareth Williams, this range of information is particularly beneficial to companies looking to drill and develop smaller fields in mature areas where facilities might otherwise face decommissioning.
The technique could also provide a breakthrough in seismic imaging of the basalt-covered areas between the Shetland and Faroe Islands which are thought to hold strong hydrocarbon potential. SHarp's enhanced low and extended high frequencies, in the range 2-100 Hz, should improve penetration and higher resolution, the company says, adding that the extra octave at low frequency is better suited to imaging of sub-basalt, subsalt and deep targets than conventional seismic methods. The technique is also said to be compatible with 4D, enhancing reservoir management during a field's lifetime. All of Dolphin's vessels are equipped to use SHarp. Following initial onboard processing, the task is completed at the company's UK processing center in Tunbridge Wells using its OpenCP5 software.
The company acquired this software through purchasing the US-based processing specialist Open Geophysical, which is responsible for the sole new processing software developed and designed so far this century, Williams claimed. "All other competitors are still working on development of 1970s products. We are in control of our development, and we are putting money into that company to develop new algorithms."
More Offshore Issue Articles
Offshore Articles Archives
View Oil and Gas Articles on PennEnergy.com