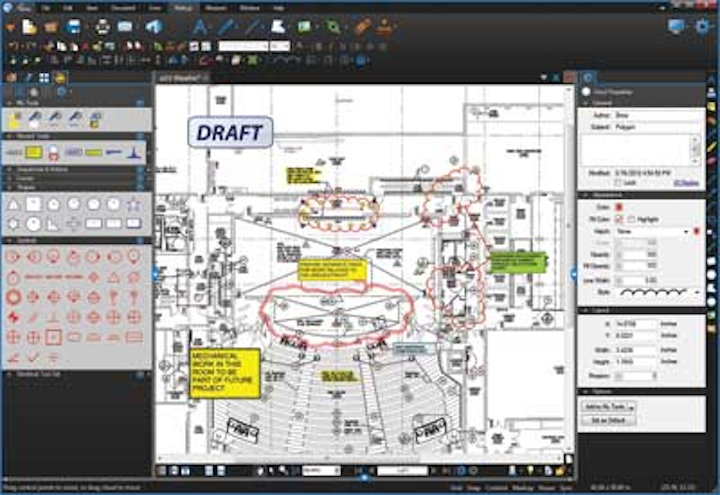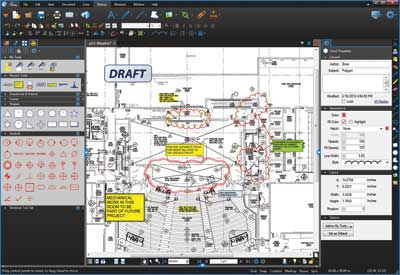 Example screen from Bluebeam Revu collaboration system.
Bluebeam Software, developer of PDF-based collaboration solutions, has released the latest version of its flagship product, Bluebeam Revu. The company says Revu lets project engineering teams electronically review P&IDs with customizable annotations, track all markups in a list, electronically assemble documents such as work packs, store project files online, and collaborate in real time with Revu's integrated cloud feature, Bluebeam Studio – all from a desktop or tablet PC.
New features in Revu 11 make it easier to organize digital information so that documents and data are quicker to access in the field. Users can create PDF bookmarks and page labels from title blocks or other PDF content using AutoMark so they can easily find the pages to review, says Bluebeam.
Searching for drawing elements such as valves is done using the VisualSearch tool, which is enhanced to make it easier to find items regardless of rotation or size, and to provide a count of all identified search results.
Standardized annotations can be made on the fly using the Format Painter by selecting a markup with the desired settings, choosing markups to adjust, and letting Revu do the rest.
Revu 11 also enhances Revu's cloud-based collaboration feature, Studio, by enabling users to check out and edit PDFs and other file types stored in projects even when Internet connectivity is lost. The ability to access and review and edit files, even offline, provides offshore and onshore project team members with the information they need, when they need it, says Bluebeam.
More Offshore Issue Articles
Offshore Articles Archives
View Oil and Gas Articles on PennEnergy.com