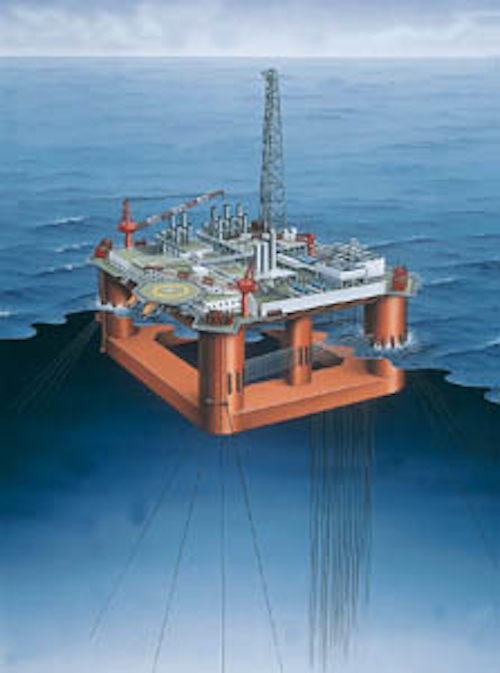 Åsgard B will be the first dedicated semisubmersible gas production platform, with a processing capacity of 38 MMcm/d.
Recent months have seen Kvaerner carry off a clutch of prestigious contracts, among them the Åsgard B gas platform and a novel jackup production platform for Siri. In both cases the operator is Statoil.
Both Åsgard B and Siri are EPCI contracts. In recognition of the increasing market demand for turnkey solutions in Norway, Kvaerner has decided to re-organise its activities in the country by merging three of its leading companies - Kvaerner Engineering, Kvaerner Rosenberg and Kvaerner Installasjon.
Representing respectively the group's engineering, fabrication and offshore hook-up capabilities, these companies are now being reformed into a single entity, with a staff of 6,000, known as Kvaerner Oil and Gas.
Worth NKr 6.6 billion, the Åsgard B contract is the largest individual contract ever awarded to Norway's offshore industry, according to Statoil. The platform itself will be the largest semisubmersible steel-hulled unit yet built, comprising a 28,000-ton topsides and 17,350-ton hull. The basic design, designated Kvaerner GVA 70, has been developed in cooperation with GVA Consultants.
An $85 million sub-contract has been let to Daewoo Heavy Industries of South Korea to build the hull and deliver it in August 1999. The ring pontoon, which measures 96 x 102 meters, is of typical shipbuilding design.
In addition to the four corner columns, the hull will include two support columns midway along each side. This is to enable the deck to be built in two halves, both of which will be fully assembled before being mated with the hull, according to Kvaerner's Åsgard B project manager Bent Hammel.
The topsides consists of a deck box containing utilities, on top of which will be installed the systems packages and 120-bed living quarters. The underside of the double-bottomed box is flush so as to make maintenance easy and reduce the likelihood of corrosion.
The systems packages and quarters will be supplied on an EPC basis under subcontracts to be tendered later this year. Kvaerner itself will bid for some of these, Hammel says.
Though not yet finally decided, there are likely to be six systems packages: separation (4,000 tons), gas export compression (2,500 tons), gas recompression (1,000 tons), gas treatment (1,000 tons), gas dehydration (680 tons), and methyl/ethyl/glycol regeneration (300 tons).
Process capacities will be 38 MMcmd gas production, 11 MMcmd gas re-injection, and 94,000 b/d condensate production. Gas processing capacity could be raised to 48 MMcmd by installing another export compression train.
The project will be run by an integrated organisation made up of 500 contractor staff and 50 Statoil personnel, based at Kvaerner's Oslo offices. Construction gets under way in March next year and the platform is due to be delivered on the field in August 2000. It will be moored in some 300 meters' water depth by 16 mooring lines. The contract includes field installation.
Designing and building the platform will take an estimated six million work-hours. Half will be performed by Kvaerner personnel, of which engineering, procurement and project management will take one million work-hours and construction two million, and the other half by subcontractors.
Kvaerner now has its eyes on Åsgard C, a monohull floater in which condensate production from the B platform will be stored. "It's a typical item for Kvaerner Masa-Yards in Finland," says Hammel.
For the Siri development in the Danish sector, the $230 million contract was due to be signed once the project was approved, in March or April. A letter of intent for the contract, which also includes the provision of a 2-km flowline and offloading system, was awarded to Kvaerner in February.
The novel design comprises a jackup platform with process facilities standing alongside a wellhead tower. Both structures stand on a steel storage tank placed on the seabed.
The tank and wellhead tower are due to be installed on the field as a single unit in spring 1998, after which production drilling will get under way. The three-legged jackup unit will be installed, using slots in the steel tank, late the same year.
The jackup design has been licensed to Kvaerner by Marine Structure Consultants of the Netherlands, which developed it. The 3,260-ton hull will be built by Kvaerner's Rosenberg yard.
The topsides, which has an all-in weight of some 4,000 tons, will include separation, oil export, gas and water re-injection facilities, and accommodation for 60 personnel. Responsibility for the process module lies with Kvaerner Process Systems, and will also be built at Rosenberg. The various capacities for the topsides facilities and storage have not been revealed by Statoil.
The wellhead tower will have 12 well slots, of which nine are currently planned to be used. It will weigh 700 tons plus mechanical outfitting of some 300 tons, while the storage tank will weigh 6,200 tons and will contain 4,400 tons of concrete ballast. A fabrication contract for the two structures was due to be awarded in about April.
Copyright 1997 Oil & Gas Journal. All Rights Reserved.