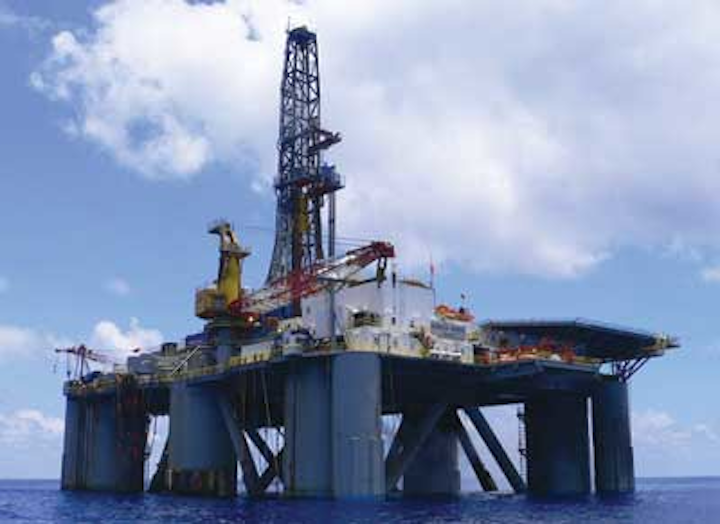 Bruce Beaubouef • Houston
Keppel FELS Brasil has won a $200-million FPSO topsides construction contract from Modec and Toyo Offshore Production Systems. It covers fabrication and integration of topside modules for the FPSOCidade de Mangaratiba MV24 at Keppel FELS Brasil's BrasFELS yard in Angra dos Reis.
The new vessel, due to be completed by 2Q 2014, is to serve for 20 years at the Lula-Iracema South Area in the Santos basin. The vessel will be chartered to Tupi, the Dutch-registered company owned by Petrobras Netherlands, BG Overseas Holding, and Galp Energias E&P Brasil. It will have an oil production capacity of 150,000 b/d, and storage capacity for 1.6 MMbbl.
Work at BrasFELS should start in 4Q 2012. The major work scope includes fabrication of a helideck, flare tower, risers, manifolds, waste heat recovery units, sulfate removal unit, water injection unit, and integration.
The first project between Keppel and Modec/Toyo on fabrication and integration of topside modules for the FPSO Cidade de Sao Paulo was contracted in February 2011. This program is on track for completion by the end of 2012.
Songa Offshore provides update on rig fleet
Songa Offshore has provided an update on its rig fleet.Songa Venus continues to operate for Petronas Carigali offshore Malaysia. Songa expects a one-year contract extension to be confirmed this month, keeping the rig in Malaysia until 3Q 2013.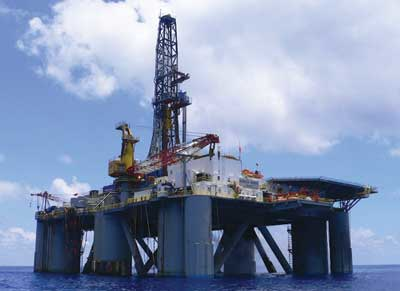 Songa Venus continues to operate for Petronas Carigali offshore Malaysia.
Songa Mercur is in sheltered waters for light maintenance and an intermediate survey near Labuan, Malaysia. The rig is being prepared for float on and securing procedures on a heavy-lift vessel for transport to Trinidad. Estimated departure was July 8 with a 40-45 day transit time. On arrival in Trinidad, the rig will undergo contractual preparatory work for a contract with Zarubezhneft in Cuba this fall.
Songa Delta is operating under the Wintershall/Det Norske Oljeselskap contract farmed out to Suncor. It is finishing a well, and then will head to the CCB yard near Bergen for a scheduled upgrade program prior to starting a four plus one-year contract for Statoil.
Songa Trym, which has been working for Statoil on the Troll field, also will head to the CCB yard next month for a Special Periodic Survey and upgrade program prior to starting a three plus two-year for Statoil under direct Songa management.
Songa Eclipse started a one well plus 18-month contract for Total E&P Angola in May. Following initial downtime related to readying of the BOP following an acceptance test, the rig has achieved 90% operational efficiency over the last three weeks.
Rig secured to drill offshore Tunisia
Cooper Energy Ltd. and the Bargou Joint Venture have signed a letter of intent with Grup Servicii Petroliere SA to contract theGPS Jupiter jackup rig to drill offshore Tunisia. The Hammamet West 3 well is scheduled to spud in December 2012, depending upon completion of prior rig commitments.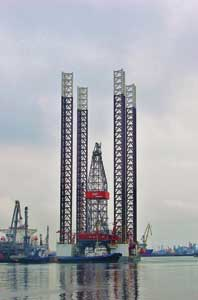 Cooper Energy and the Bargou Joint Venture have signed a letter of intent with Grup Servicii Petroliere SA to contract theGPS Jupiter jackup rig to drill offshore Tunisia.
Hammamet West oil find is on an anticline in the Bargou Exploration Permit, Gulf of Hammamet in 50 m (164 ft) water depth. Two wells drilled to date indicate a gross oil column of at least 190 m (623 ft) in the Abiod formation.
Participants in the Bargou Joint Venture are Cooper Energy Bargou Ltd. (30% and operator), Dragon Oil plc (55%), and Jacka Tunisia Bargou Pty Ltd (15%).
Lamprell to build new Seajacks jackup vessel
Lamprell has won a $120.9-million contract to design, construct, and deliver to Seajacks 4 Ltd. a modified Busto MSC NG 2500X jackup service vessel. TheSeajacks Hydra will be built at Lamprell's Hamriyah facility with delivery scheduled in 2014.
The 7,000-metric ton (7,716-ton) vessel will have dynamic positioning, high-speed jacking, 400- metric ton (441-ton) crane, propulsion, accommodations for 100 people, and a 1,400-metric ton (1,543-ton) payload.
"Hydra will become the fourth vessel in our fleet and is part of our long-term growth plan following the acquisition of the company by Marubeni and INCJ earlier this year," said Kevin Alcock, VP New Build Projects, Seajacks. "As part of that plan, we are already working on the design and specification of vessel five."
NDC jackup overhaul completed
Drydocks World has completed a maintenance program on the jackupDelma for Abu Dhabi-based National Drilling Co. (NDC).
Delma is a cantilever-type, self-elevating drilling platform built in Brazil in 1983. The scope of work involved a complete overhaul of the starboard and port side cranes, steel renewal in tanks, and improvements to the high-pressure mud lines, stand pipe manifold and various pipes.
Pipelines were hydro jetted, and the rig was blasted and painted. The internal rig inspection and painting of the legs and derrick were performed using rope access.
Upgrade work included replacement of two life boats and davits and shale shakers, fabrication and installation of a BOP trolley beam, and renewal of grasshopper cable trays.
NDC CEO Abdalla Saeed Al Suwaidi said: "A reliable, modern rig fleet is essential to sustainable success; therefore, NDC launched a major asset renewal plan that involved investment in new rigs, as well as the modernization of existing ones."
Endeavour jackup scheduled for trip to Cook Inlet
Kenai Offshore Ventures, LLC has executed a contract to transport theEndeavour jackup drilling rig from Singapore to the Cook Inlet, Alaska, using a heavy-lift vessel. The trip was expected to begin at the end of July and take three weeks to complete. Once at Cook Inlet, the rig will be offloaded and towed to its first well location.
EMAS wins six vessel charter contracts
EMAS Marine has won six contracts for offshore vessel support in Asia and Africa valued at $87 million. The contracts come from a variety of operators and service companies and include platform supply vessels as well as anchor handling, towing, supply vessels.