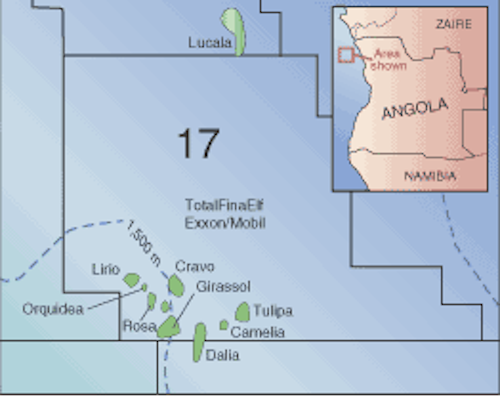 Dalia contracts on course for December
TotalFinaElf may award contracts by early December for the $500-million subsea umbilical, riser, and flowlines package on its huge Dalia field project off Angola. Tender documents were received in late August from the Stolt/Saibos joint venture (JV), McDermott, and Technip, and they are currently being evaluated.
A TFE source hinted that all contracts, including that for the FPSO, will be awarded by yearend. Hyundai and Samsung are in the race for the contract for the FPSO's hull, while Kværner Oilfield Products has already clinched the contract for the 67 subsea tree package, beating out FMC Kongsberg.
Dalia's umbilical and flow system will comprise 40 km of 12-in. production lines in loops, two riser towers, 40 km of 10-in. water injection lines, and 8 km of 12-in. gas injection lines. The Stolt/Saibos JV is expected by some observers to win the contract because it was involved in the Girassol project. The Girassol field currently produces 220,000 b/d and has so far outperformed expectations.
Dalia, however, is bigger than Girassol and has two separate accumulations. Dalia's field development program calls for 34 production wells and 30 water injectors, as well as three gas injectors. The FPSO, like Girassol's, will have storage for 2 MMbbl of oil but will be larger to accommodate the treatment process required for heavier crude, an overall liquid rate of 400,000 b/d, and an injection rate of 410,000 b/d.
Activity off Ghana
The usually quiet coast of Ghana, one of West Africa's hydrocarbon-poor countries, has seen a burst of activity over the last few months. First, the 18-month-old government of President John Kufour is moving faster than its predecessor to develop badly needed gas supplies to feed the country's electricity plants. Second, Ghana, in spite of its exploration record, has managed to lease some offshore acreage.
In July, the state electricity utility Volta River Authority signed a letter of intent with a consortium of gas suppliers including ChevronTexaco, Shell, and Nigerian state oil company Nigerian National Petroleum Corp. to supply gas to the 330-Mw CCGT power plant at Takoradi in the west of the country.
In August, the government signed a petroleum production agreement with Tano Energy for the exploitation of the offshore Tano fields. Gas from the fields is to power turbines mounted on barges in the Effasu Lagoon. The North and South Tano fields are located between 20 km and 35 km offshore southwest Ghana. Exploration and appraisal activity over the past 15 years have led to the conclusion that South Tano will be a marginal oil producer, but that substantial volumes of natural gas can be expected from both fields. Estimated reserves are said to be sufficient to power a 100-140 Mw power plant over a period of 15 to 20 years. Tano Energy Ltd. will spend $100 million in field development.
Ghana National Petroleum Corp. will have a 20% share of net production from the Tano fields as well as the right to a further 10% after five years. The company is expected to make gas available within six months.
North Tano platform is the first of two platforms to be installed. Located in 52 m of water and 18 km from the coast, it will supply 26 MMcf/d of processed gas to the power generating complex. South Tano is farther offshore, in 122-m water depth and 37 km from the coast, and it will come onstream later. When South Tano gas becomes available, generating capacity at Effasu/Mangyea can be increased to 270 Mw. The South Tano field should also boost oil production for both fields to 3,000 b/d.
Meanwhile, Vanco Energy, a Houston-based independent with more than 1 million net acres of hydrocarbon property, has added Ghanaian leases to its burgeoning portfolio. The company signed a petroleum agreement with the Ghanaian government for the 10,117-sq-km Cape Three Points deepwater block. GNPC has a 15% interest in the lease.
The Cape Three Points deepwater block lies in water depths between 100 and 3,000 m, with the most promising lying in the deepwater from 1,000 m to 3,000 m, according to Vanco. The Cape Three Points deepwater block, which is located in the Tano-Cape Three Points basin, is distinguished by a number of anticlinal structures of Cretaceous age, and is near recent oil and gas discoveries made by Dana and GNPC. Vanco planned to acquire 2,220 km of 2D seismic on the acreage by early September.