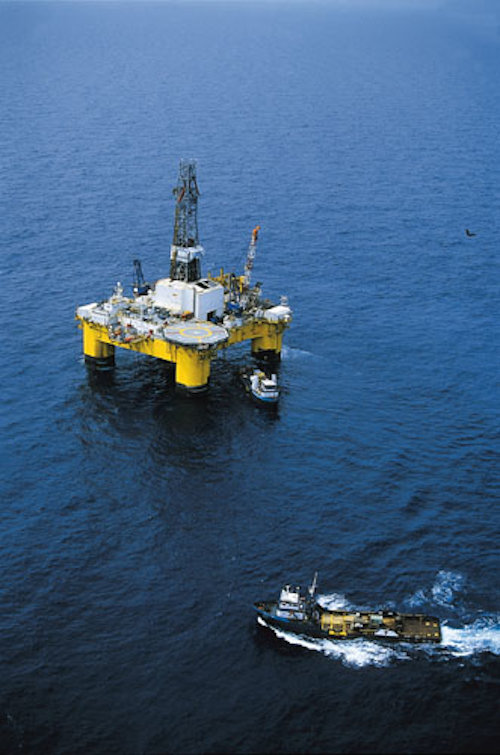 What to do about aging fleets, lack of skilled people?
Leonard Le Blanc
Editor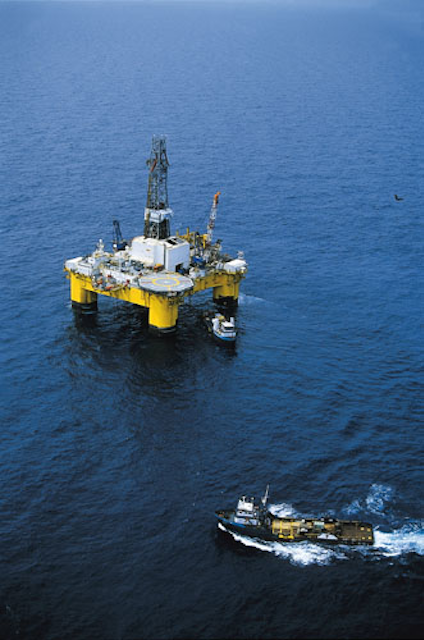 Transocean's George Richardson probing for oil in very deep water. (Photo courtesy Tidewater, Transocean)
The global oil and gas industry is on the verge of taking control of its future, freeing itself from the peaks and valleys of oil and gas price shifts and unquantifiable risk. Finding replacement reserves and earning an adequate financial margin beyond the year 2000 will be a function more of technical innovation and control of costs than market prices.
The recovery of the global oil industry did not begin this year when oil prices rose above historical averages, or last year when gas prices responded to colder winters in the northern hemisphere, but in the depths of the recession. Driven to the brink then, companies began to use new information systems and "not invented here" technology to manage costs and quantify the risks associated with geology, project development, and oil and gas price movement. Strengthening oil demand today, while absorbing the last remnants from the era of surplus capacity and equipment, is simply adding to this hard-won capability.
An example of growing expertise in risk management is the rare use of the terms "wildcat" and "throw-away wells" in offshore drilling. The merging of large data sets from gravity and magnetic surveys, high density geophysics, stratigraphic sequencing models, and vertical seismic profiling allows producers to reduce risks in exploratory drilling. Unlike conditions only 10 years ago, there are few surprises left when drilling an explor-atory well, only whether pore spaces contain what geologists suspect is there.
This savings wrung from dry hole costs are being invested in further geoscience evaluation or diverted to horizontal, extended reach, and multi-lateral technologies to maximize the use of every vertical borehole. Nothing is left on the table.
As in geosciences and drilling, information technologies are allowing producers to manage risk over the entire company. Supply, demand, and price fluctuations of E&P inputs (knowledge, equipment, steel, construction, labor, services) and outputs (oil, gas, condensates, derivatives) and the margins between the two are much more predictable today. But because this input and output information is transparent to all competitors, producers have little choice but to search for strategic advantage in cost control and innovation.
Near-term challenges
While cost control and risk management are the two key elements to industry stability in the next century, there are near-term hazards associated with global industry growth that could create serious temporary problems over the next two years:
Trained personnel: Computers and software are cataloging and spreading expertise, but not rapidly enough for demand. The merging of company functions and development of project teams are helping to fend off the shortage of knowledge and skills, but the rush to hire petroleum engineers is exposing the problem. Unfortunately, the industry will not see larger petroleum engineering graduation classes until the year 2000.
Drilling units: Will day rates rise sufficiently to build the 20-40 replacement drilling units needed soon. The real indicator, expected to come late next year, is whether producers are willing to surrender leased or licensed blocks without drilling them. Right now, the sharing of services among producers and upgrading of old units are providing some relief, but few producers want to postpone drilling much longer.
Equipment, service costs: Unlike surging drilling rig day rates, equipment and service costs for producers still reflect a surplus condition. But, that surplus is virtually gone. Replacement means that 10-30% higher costs will have to be passed along, and producers will have to factor that increase into future E&P models.
Aging fleets: Producers have to face the reality (and potential liability) that aging fleets of mobile rigs, supply vessels, and helicopters will be with them for a while to come. The cost of new construction and equipment has risen 35-50% over the past five years, so replacement day rates will rise by the same margin. For example, the cost of a new deepwater semisubmersible, at $200 million three years ago, is now over $300 million.
Struggling downstream: How long can the struggle for downstream margins in Europe and the US go on without the normal course of relief - lower oil prices? There has been virtually no pass-through of higher crude oil prices. Collapsing margins have driven out refiners and refining capacity, especially the non-integrateds. If changes are coming downstream, how will they impact upstream production?
Start-up competition: The rash of new start-ups, both in the producer sector and the service area, are an indicator of the investor funding flowing into the industry. Independent operators are able to lay off some of the risk of deepwater and international operations to service companies with turnkey capabilities. Serving this growing niche are employees with critical skills who no longer perceive a downside to shifting employers, making it easier for start-up firms to gain critical knowledge quickly.
While higher oil prices generally enable even the weaker oil and gas producers and service companies to survive, a company's ability to resolve these factors in the next 2-3 years will determine their market share and corporate size in the next century.
Margins, not prices
During the 10-year-long industry recession, producers and service companies concentrated on reducing capacity by any means possible and developing technologies that could enable them to increase certainty in field exploration and production. While doing so, they were also laying the foundation for two realities that are helping to stabilize the industry today:
Little fear of low prices: An oil price downturn, while probably inevitable some time in the future, no longer carries the fear-inducing baggage it once had. $15/bbl oil prices and $1.50/Mcf gas prices can generate profits for many producers. Cost flexibility has reduced project risk. Producers want to maintain that flexibility by continuing the process of restructuring and alliancing.
Commodity pricing: Quick reaction to strengthening or weakening oil and gas prices, aided by new technologies, along with shorter-term contracts, and large spot and future market oil and gas sales, are collapsing the time that industry requires to meet product demand or cut back at the onset of surplus. With this rapid-response scenario, oil and gas prices in the future will probably not move very far above or below historical price averages.
These two trends suggest that oil prices in the $22-26 range today, while obviously favorable, may not hold in nominal terms very long before drifting downward. Thus, instead of watching long-term price trends, many producers are focusing more on profit margins and their ability to maintain those margins when prices begin dropping.
In spite of the significant near-term challenges associated with growing demand, the flattening of oil and gas price shifts and the speed of the industry's reaction to supply/demand/price changes help ensure the industry will achieve unprecedented stability as the 21st century arrives.
Copyright 1996 Offshore. All Rights Reserved.