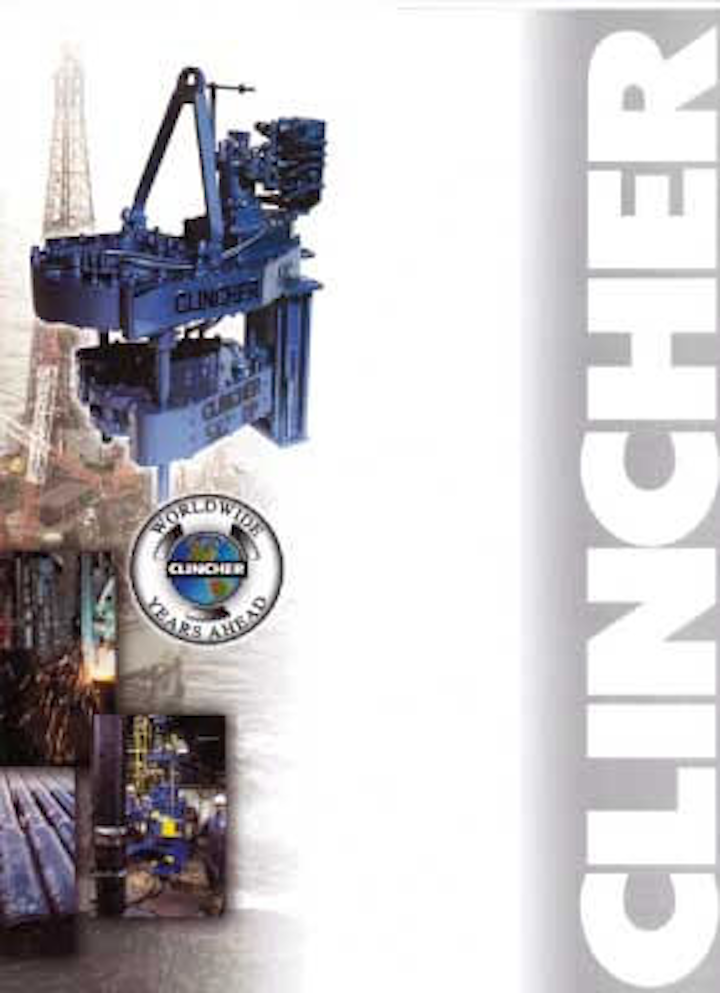 Hydraulic tong-positioning
Superior Manufacturing & Hydraulics, Inc.'s latest design, Hytops, is a hydraulic tong positioning system for tubular service companies. It is part of the company's Clincher line. Hytops allows one operator to handle equip-ment that would normally require a crew of four or more. One operator performs all operations via the integrated stainless steel control console connected to the Hytops system. The system works in remote operations, including placement of tong and backup. The units can be configured to use counterweight, and as backup, rare earth magnets to place and lockdown the unit.
Service portal
OFS Portal is a conglom-eration of suppliers working together to provide a single source of standardized information for upstream products and services to use between a reservoir and a refinery gate. OFS Portal provides a single, non-profit portal to member companies' products and services, preserves the ownership of information, and provides consistent access to the OFS Portal e-customers. The Portal covers classification schema, commercial data, technical attributes, content formats, and syntax requirements.
Riser top connector
The Steel Catenary Riser Top Connector, through a joint industry project, elim-inates difficulties and safety issues associated with present connectors. Improve-ments eliminate elastomers from multiple duties of high load absorption, flexural cycling, and high-pressure containments of petroleum liquids and gases. As a result, basic use of multi-directional angular movements has been modified, and field installation durability has increased. Transfer of fluids without flashing was improved, and SCR moments caused by angular motion have reduced.
New transmitter
Solarton Mobrey published a new four-page brochure introducing the MRL700 transmitter. The transmitter is installed for measurements of liquid, slurry, or dry products. Its antenna emits continuous microwave signals, ramping between 9.55 GHz and 10.55 GHz and receives a reflected echo, allowing the instrument's microprocessor-controlled electronics to compute the measurement to an accurate level of +/- 1/8 in. The MRL 700 features a Nema 4X metal enclosure housing 4 wire 24V DC electronics. It also consists of an antenna to be used in almost all applications.
Separation unit
Amistco Separation Products introduces the Amistco Filco-PlusTM unit. The unit separates solids, emul-sions, hydrocarbon fluids, and water. It can clean diesel, jet fuel, or other hydrocarbon products by removing water emulsions and solids from ships, barges at terminals, and storage facilities. Other system designs remove hydrocarbons and solids from bilge water on vessels or water emulsions from storage tank bottoms prior to discharge.
Air sump pump
ATP developed the ATP 551P submersible lightweight portable air-operated sump pump. The ATP-551P is a submersible capable of pumping up to 216 gallons of water per minute. The non-clogging, self-cleaning pump, for clean or dirty water, sewage, oil, and sludge, is capable of handling all pumping requirements. The ATP 551P features a built-in oiler and extended exhaust with check valve to prevent water from entering the motor. The pump consists of rugged cast-iron housing, carry handles onsite, and a governor-controlled motor.
Corrosion control
Baker Petrolite introduced a new brochure outlining the company's corrosion control technology group. The brochure explains the company's corrosion control technology and experience, coupled with its services and innovations. One innovation is the development of testing protocols that better simulate actual field conditions, instead of relying on field screening of inhibitors to determine an effective product for a given situation. The company can merge software packages and engineering studies to model conditions similar to any well or pipeline.
New crane line
Applied Hydraulic Systems, Inc. unveiled the Nautilus Model 1100L. The new crane line has a rated capacity of up to 317 metric tons and boom lengths up to 67 meters. The hydraulic crane is designed for use on floating platforms, floating production vessels, and offshore drilling rigs. The crane features the following: a finite element analysis design to allow for a modular construction; multiple swing drive capability for floater applications; open upper-structure for ease of maintenance; pinned gantry design; bridle/pendant type boom luffing system; and a large operators' cab that is insulated and air conditioned along with hydraulic joy stick controllers.
Fluids management
Houghton Offshore, a division of Houghton International, has made available a new brochure for its offshore drilling fluids product line. The brochure, Delivering the Complete Offshore Solution, outlines the company's services and fluids, such as motion compensation fluids, subsea control fluids, blowout preventer fluids, and corrosion preventatives, all for offshore drilling operations. Thirteen of the company's worldwide headquarters are included, as is Houghton's fluid management package, FluidcareTM. With FluidcareTM, specialists train operators to optimize fluids, maximize equipment performance, and monitor fluids onsite, by maintaining constant fluid quality without going to shore.
Lost circulation material
Baker Hughes Inteq created the X-Link lost circulation material, which combines cross-linking polymers with bridging agents to provide control of fluid loss. The X-Link also offers a proven means of controlling severe circulation losses resulting from large fractures or vugular spaces. The material was engineered to produce cross-linked gels, tolerant in temperatures of 40-300° F and densities of 8.3-17.0 ppg. X-Link pills are activated by temperature and setting time is controlled through accelerator or retardant additions during mixing.
Pipeline engine
Caterpillar created the G16CM34 engine which offers 7,670-8,180 hp at 750 rpm with 25% turndown and greater than 98.5% availability. The engine is able to produce continuous power at a full rated load within a recommended 120,000 hours before major overhaul. The engine is designed to cool down to protect components when needed. The engine stays clean through turbochargers and electronic combustion control. Along with Caterpillar's Adem III control system and Cat G3600, the Gi6CM34 is able to use maximum power from pipeline quality natural gas while complying with air regulations.