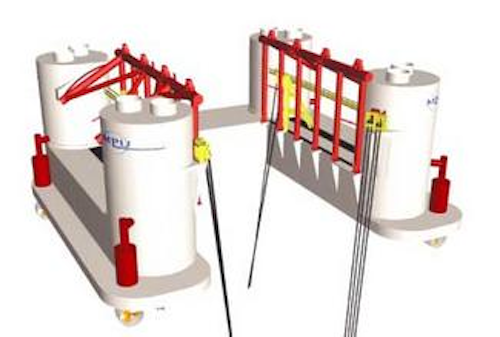 MPU Enterprise, which has devel-oped and patented the MPU Heavy Lifter (MPU-HL) single-lift concept for the removal of offshore platforms, is preparing to bid to ConocoPhillips Norway (Copno) for the removal of two booster platforms on the Ekofisk-Teesside oil export pipeline.
The company, which along with six others delivered front-end engineering design (FEED) studies for the work in December, was expecting to receive bid documents in March, according to Managing Director Kolbjørn Høyland. The Copno assignment will be the first in which new single-lift concepts are given a chance to prove their worth, and success could open the way to a potentially significant market in removing other redundant platforms, in the first instance from the Ekofisk and Frigg fields in the Norwegian sector.
For offshore abandonment operations, MPU Enterprise has teamed up with Kellogg Brown & Root (platform removal preparations), Kynnings- rud (landing and skidding operations), and Barber Ship Management (marine operations).
The MPU-HL is a U-shaped vessel with a concrete hull. It has lifting frames mounted along either side for lifting topside structures, and strand jacks on the pontoons for lifting jackets. The company has patents for both the topside and jacket lifting methods.
Studies performed for the Decommissioning Technology Forum have confirmed the concept with respect to both topside and jacket removal, Høyland says. The FEED work for Copno shows that it also requires a reduced amount of preparatory work offshore.
A further positive sign came when the Nor-wegian Guarantee Institute came out in favor of providing guarantees for construction of the vessel, which is expected to cost NKr 700-800 million. In February MPU Enterprise began prequalifying yards for a provisional construction contract.
The single-lift vessel MPU Heavy Lifter is to be offered for the removal of two ConocoPhillips Norway platforms.
Bids for the Copno contract are due to be delivered in June, followed by contract award in November. Platform removal is expected to be initiated in summer 2005, a tight schedule given that all but one of the qualified bidders are offering new, as yet unbuilt, concepts. A key issue will be Copno's contract strategy, and the proportion of risk it expects the contractor to take, Høyland says. A lump-sum contract could prove a heavy burden, putting all the risk on the contractor.
The MPU-HL is capable of platform installation as well as removal. MPU Enterprise also recognizes that it should be available for work around the world, and has designed the vessel so that it can be transported on a heavy-lift ship. International marketing is assisted through MPU's membership in Intsok, in which it is at present the only company in the newly formed decommissioning cluster.
A smaller, all steel, version of the MPU-HL has been developed for the installation of offshore wind-turbines.