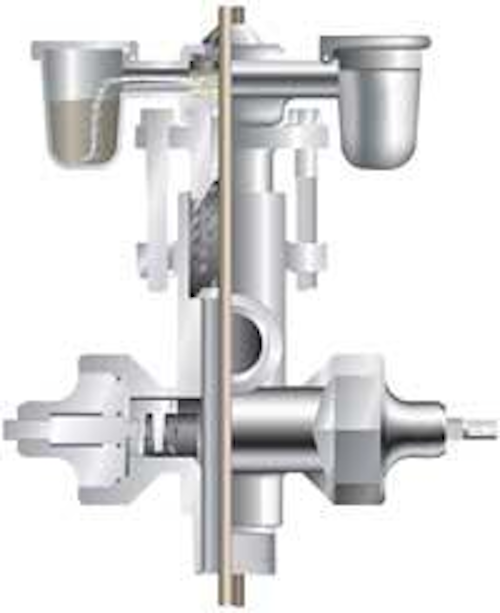 Jaime Kammerzell • Associate Editor
Double-E pumping stack
Double-E Inc. has introduced the pumping stack, a new hybrid product that combines a blowout preventer, flow tee, stuffing box, and polished rod lubricator in one installed and serviced assembly. The four-tools-in-one combination offers a cost-effective alternative to purch- asing separate tools, the company says, and reduces the time and effort required for in-stallation. The shortened stack height of the compact design maximizes stroke. The pumping stack type offers 2,000 psi working pressure and 4,000 psi test pressure. The dual-packing design combining the blowout preventer and stuffing box gives shut-off for 0 to 1 1/2-diameter rod, at rated pressure.
DuoFLO filter elements and housings
CUNO has introduced DuoFLO filter systems, designed for both new and retrofit bag filter systems. The filter system is an alternative to standard bag filters and was developed using CUNO's depth filtration experience. The filter media, featuring a true graded-porosity structure combined with a 62% increase in filter surface area, ensures that the filters provide up to four times the service life of conventional felt filter bags, efficient contaminant removal, enhanced flow per filter element, and reduced total filtration costs, the company says.
Flo-Pak inflatable packer
Baker Oil Tools' Flo-Pak inflatable packer is a multiple-set packer system designed to meet the challenges of production logging analysis in horizontal or deviated wellbores. The Flo-Pak can be set and reset on coiled or threaded tubing while maintaining a production or injection path through the tool with minimal pressure loss. The Flo-Pak allows testing of multiple zones in a single trip. The packer is inflated at discrete locations throughout the wellbore to divert all flow through a production-logging tool run below the packer. The system's fixed inside diameter carrier allows for high-resolution production logging over a range of flow rates.
Motor brakes
Magna Shear electric motor brakes bring long life, low wear, and cushioned stops to the toughest marine applications, giving the deep six to repair and replacement frustrations, the company says. ABS-certified, the proprietary oil-shear designs deliver many times the friction material life of ordinary dry-friction units, while supplying full-rated torque over the life of the brake. Oil shear action cushions engagement, smoothing away shocks and jerks to reduce stress on drives and structures. The motor brakes come in seven model/frame sizes providing torque ratings from 4 to 1,250 ft lb for application on marine and dockside holding, hoisting, and loading equipment.
Reservoir stimulation tool
Expro International Group's StimTube is an oxidizer-based tool for reservoir stimulation that, when detonated, can generate large volumes of high-pressure gas – as much as 20,000 psi at the reservoir face. These high-pressure gas pulses are effective in perforation breakdown, fracture initiation, and elimination of near wellbore damage. StimTube can be run through tubing or on slickline to stimulate existing perforations and eliminate the need for additional stimulation techniques, resulting in significant cost savings. It can break down scale in the wellbore and displace fines from gravel pack screens.
Oil-Shear clutch/brakes
Posidyne oil-shear clutch/brakes offer 24/7 reliability in cycling of heavy loads in mining, mineral processing, marine, and offshore drilling rigs in demanding conditions and applications. Posidyne clutch/brakes come in 11 models offering up to 600+ cycles per minute (cpm) or 500-brake hp with up to 10 times longer service life. Developed for extreme conditions, the clutch/brakes end fade and early failures and can make 70-150 cpm and higher a practical reality. Proprietary oil-shear design by Force Control Industries dissipates heat, reduces friction wear, and cushions engagement shocks. Each model size is available with five control logic options, four cooling system choices, and eight mounting configurations.
Thermography camera
FLIR Systems' ThermaCAM E2 is a small infrared camera that can be used as a predictive maintenance tool in oil and gas production. Weighing 700 grams, the E2 fits into the palm of the hand or on a tool belt. It can show precise temperature values for 19,200 points on its display over a range from -20° to +250° C. The ThermaCAM E2 camera also allows up to 100 images to be stored in the camera in standard JPG format together with measurement results. These can be recalled at any time on the LCD display or downloaded to a PC with FLIR Systems' ThermaCAM Connect software supplied with the camera. Downloaded thermal images can be incorporated into reports created in the users' preferred work processing programs.
Bilge water range separator
Westfalia Separator Mineraloil Systems has launched the WSD18 high-speed centrifuge that separates oil from bilge water to 5 ppm. Bilge water regulations require oil content in effluent discharged at sea to be below 15 ppm, but some territorial waters require a limit of 10 ppm or 5 ppm. Bilge and drain water, mainly water with fuel oil, lube oil, cooling water, and cleaning materials in suspension, as well as some oil emulsified in the water, is difficult to separate into its constituents. The Westfalia separates the oil, water, and solids, sending the oil to the waste oil collecting tank for subsequent disposal, the solids to be collected for easy disposal, and discharging clean water safely to the ocean.
New foam for offshore industry
Foam technologist company Zotefoams has introduced PVDF, a tough, engineering thermoplastic that offers a balance of properties. It has a temperature tolerance from 160° C, UV and aging resistance, resistance to a wide range of hydrocarbon solvents and aggressive chemicals, and high dielectric strength. These properties are combined with the flexural response, buoyancy, and thermal insulation properties given by foaming to produce a material suitable for use from sealing and thermal insulation in aggressive environments to pipeline pigs. The PVDF foams are also fire retardant, low smoke, and low heat release materials.
RV-series actuators
Shafer RV-series valve actuators from Emerson Process Management are made for quarter-turn applications on natural gas or liquid crude and products pipelines. The rotary vane design offers concentric mounting, reduced size, and balanced weight for high vibration applications, and its compact size makes it ideal for use on offshore platform topsides. The RV-series actuators have torque outputs ranging from 1,000 to 6 million lb and can be operated in supply pressures ranging from 100 to 3,000 psig.
Multidensity speed mixer
Vortex Ventures multidensity speed mixer allows mixing on the fly. The flexible design provides optimum mixing capabilities, Vortex says. The mixer can mix barite to rapidly increase drilling fluid density, or it can dilute on the fly during riserless drilling. It can mix up to 2 metric tons per minute and has dilute ratios of 2:1, 3:1, and 4:1 on combined induction rate of 62 bbl/min.
Continuous water monitor
The TD-4100 XD is a rugged, continuous on-line oil in water monitor. The XD is designed for offshore oil production and other industries that require robust on-line hardware for severe duty and hazardous locations. The monitor is skid mounted and constructed of 316 stainless steel, including the external keypad, for corrosive environments. The TD-4100 XD detects and measures crude oil, refined fuels, fuel oils, lubricating or hydraulic fluids, and aromatic solvents in water. The water monitor can detect dissolved, dispersed, and emulsified hydrocarbons in water. Hydrocarbons are monitored in water without chemical additives or pre-treatment, and no mechanical mixing of the sample stream.